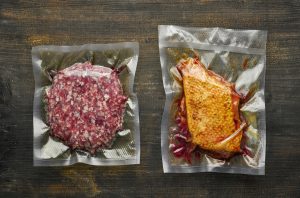 When you think of essential tools for summer cooking, chances are your mind goes immediately to the charcoal or gas grill, a cool salad or a pot of boiling sweet corn. You probably do not think of a sous vide cooker, the increasingly popular portable appliance synonymous with steak, but quickly catching on as a versatile cooking tool for many food types.
Steak is a mainstay on many summer menus, and sous vide gained popularity among steak enthusiasts for offering precise, thorough cooking that can be hard to achieve with a grill or range. Sous vide can bring that same precision to other summer dishes while adding layers of flavor and convenience as you dine and snack your way through the dog days of summer.
Appliance manufacturers now offer an array of sous vide options, from small portable immersion cookers, to all-in-one units, to built-in sous vide features that are part of a range. And even though sous vide is becoming more popular, AHAM research shows that sous vide cookers are still only in 3 percent of U.S. homes according to 2017 AHAM consumer research. So, you'll still probably look like you're on the cutting edge of home cooking to your friends and family.
"It's really a tool that can help the everyday home cook produce truly foolproof food," says Molly Birnbaum, editor-in-chief of America's Test Kitchen Kids and editor of the book "Sous Vide for Everybody: The Easy, Foolproof Cooking Technique That's Sweeping the World." "It's a 'set it and forget it' cooking method." Brinbaum, former executive editor of Cook's Science at America's Test Kitchen, didn't start cooking sous vide until she edited the book, which includes recipes for everything from eggs and dairy to chicken and other meats. She offered some summertime suggestions for sous vide cooks who are looking to move beyond steak:
Asparagus: "Oftentimes, we overcook asparagus," Birnbaum says. "Sous vide takes away the guesswork. She recommends setting the sous vide cooker at 180 degrees. Sous Vide Guy recommends adding olive oil, garlic powder, salt and pepper. Cook sous vide for 15 minutes, then remove and sear in a pan or grill for 1-2 minutes.
New England Lobster Roll: "It's the quintessential summer food," Birnbaum says. Cook sous vide at 140 degrees. Follow these tips from Serious Eats to prepare a lobster for sous vide cooking before you make the lobster roll.
Corn on the cob: "Corn on the cob is very easy," Birnbaum says. "The sous vide cooking intensifies the flavor of the vegetables. Sous vide corn tastes more like corn than other cooking methods. You don't lose any of the flavor in the water that is released while cooking." Cook at 180-185 degrees with butter.
Summer beverages: You can also utilize sous vide to cook extra-flavorful summer beverages. Put berries or citrus fruits in the bag and cook around 140 degrees. This creates a concentrated fruit syrup you can add to drinks like a raspberry lime rickey or grapefruit Paloma (tequila, grapefruit juice, lime juice), Birnbaum says.
If you are ready to dip your toe into the sous vide water bath (not literally) this summer, Birnbaum recommends choosing a cooker that keeps the steady temperature, circulates the water well, and has Wi-Fi capability. "Other than that, use quality plastic bags and be prepared to get a little time back in your life."
What are your go-to sous vide summer recipes? Share them in the comment section!