Are you a meat lover looking to incorporate more plants into your diet? Easy! Just replace that thick, juicy steak with some steamed tofu and brown rice.
What, that doesn't sound good? It's not the same? Is something missing?
If you haven't checked in on the plant-based world recently, you're in for a treat.  The new generation of plant-based "meats," unlike the carrot/oatmeal/bean discs of the past, are burgers and other pre-made products that emulate the flavor, cooking experience and (finally!) texture of meat. Purveyors of the new veggie burgers are confident they can appeal to both those looking to go full-on vegetarian and meat-eaters who simply want to eat more plants. But don't just take our word for it – within the next few years, you'll be able to find faux meats everywhere from McDonald's to Qdoba to, well, pretty much anywhere.
"Every month, it seems like new products are hitting the market," said Kerry Song, owner of Abbot's Butcher, a plant-based "butcher shop" in Los Angeles. Abbot's Butcher sells three plant-based products: ground "beef," "chorizo," and chopped "chicken". The products will soon be distributed nationwide.
"It's really great to see what companies like Beyond Meat and Impossible Foods are doing for the category," Song says. "Most [people seeking plant-based options] aren't vegans or vegetarians, they're flexitarians. We're seeing that cultural shift toward plant-based eating. As it becomes more mainstream, people are going to start expecting the taste and texture." A 2017 Nielsen survey found that 39% of Americans and 43% of Canadians are trying to incorporate more plant-based foods into their diets.
Vegetarian or not, you aren't going to eat burgers every day. So, the challenge for meat lovers, when you venture beyond faux-meats, is how to create the same level of taste and satisfaction with plant-based meals. As with preparing any meal, success starts with what you do in the kitchen. Abbot's Butcher products have been incorporated into recipes like Bolognese, stuffed bell peppers, sloppy joes, burritos, hashes, and as pizza toppings, Song says.
"It's showing people they don't have to compromise when cooking at home," Song says.
When it comes to transitioning to plants from meat, there are two schools of thought, says Justin Fox Burks who, along with his wife, Amy Lawrence, runs the food site The Chubby Vegetarian. There are the newer products like the Beyond Meat and Impossible burgers that provide a close approximation of meat, and there are recipes that will appeal to meat eaters, but aren't necessarily trying imitate meat.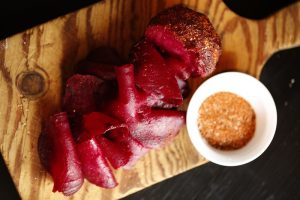 Based in meat-loving Memphis, Fox Burks and Lawrence have co-authored two vegetarian cookbooks, "The Chubby Vegetarian: 100 Inspired Vegetable Recipes for the Modern Table," and "The Southern Vegetarian: 100 Down-Home Recipes for the Modern Table."
"The goal of this generation of plant-based meats is the idea you can cook them exactly like meats," Fox Burks says. "You can put it in the griddle, it cooks the same amount of time, and rare, medium or well-done. They have plenty of fat in them, so they sizzle, they pop. They're good 'training wheels' when you want to eat more vegetables. Then you start thinking about sweet potato steaks and wings made from cauliflower."
"Texture is 100 percent of it, especially for vegetables," Fox Burks says. "If you overcook a vegetable, you're going to end up with mush. We try to give people interesting ways to cook vegetables so they'll want to eat them."
You can capture some of the meat-eating experience by preparing, and sometimes even cooking, vegetables in much the same way you would meat.
"If you take a vegetable and treat it like a piece of meat—dry rub, blacken, barbecue, smoke—you're going to end up with a delicious vegetable in the end."
How do you treat a vegetable like meat? Fox Burks and Lawrence love using their oven's broiler to blacken carrots for "carrot dogs" or to roast red peppers. "We use the heck out of our microwave," he says. "We love being able to show people how to cut a few corners, like microwaving potatoes for gnocchi, and there's no better way to soften a tortilla."
Lawrence recently re-introduced meat into her diet, which she says makes her a good test subject for plant-based recipes that emulate meat dishes. Recreating that experience comes down to texture, spices and cooking.
"You can work with mushrooms," she says. "You can work with beans to get your protein. You can do a black bean burger. Mushrooms seem to be a good substitute for a lot of things, but mainly pork. It's all in how you fix them, how you season them, and how you cook them."
A good sear is essential for bringing out the crispness and flavor that meat lovers crave. Lawrence recommends searing it well, and adding a smoky element through spices, a sauce or a rub.
One of The Chubby Vegetarian's more popular recipes is spaghetti squash barbecue ribs. "Roast them in the oven or cook them on the grill, slather them in barbecue sauce. They're ridiculously good, and you're doing all the processes. You add the smoke, the heat, the acid the salt, just like you would to pork." If cured meats are your thing, try the pastrami-cured beets.
Some of the plant-based burger brands that have been common sights in grocery store freezers for years, like Boca, can be good substitutes for meat in stews and chili, says chef Jimmy Gentry, owner of PO Press Public House and Provisions and Paradox Catering in Collierville, Tenn.
When cooking vegetables at home and in his restaurants, Gentry often turns to his sous vide immersion cooker, marinating vegetables in the vacuum-sealed bags to add flavor. "When we're cooking cauliflower, we'll vacuum seal it with a pat of butter, a couple of sprigs of thyme, a clove of garlic and some lemon zest." Cook it sous vide at 86 degrees C for about an hour. "We'll char it in a sautee pan," he says. "That gives it a little bit of color, a little bit of crunch on the edges, a little bit of char, but the inside is still perfect."
Season your vegetables, using even more than you would on a piece of meat. Spices will help coax the flavor out of the vegetables, which often lack the natural flavor of meat.
If you're used to eating meat, you might prefer denser vegetables. "A great example is a portabella mushroom," says Camron Razavi, executive chef at Restaurant Iris, a fine-dining restaurant in Memphis. "Treat it like a burger or steak. Cauliflower is still popular. You can cook cauliflower steaks just like a piece of meat. You can roast them, bake them, braise them."
Razavi, whose background is Asian and Middle Eastern cooking, often incorporates spices common in those cuisines, like cumin, coriander, turmeric, tarragon, and star anise, into his vegetarian dishes. He counts a grill pan on the stove top among his go-to cooking tools for preparing vegetables. "Take your time and make sure your pan or grill is really hot to get those nice grill marks or char on there."
Razavi recently re-introduced meat back after following a vegan diet for a year, though his diet remains plant-based.
"There are so many alternatives now to anything you can think of," he says. "Don't be afraid to try new things. If you see something interesting, try it out."