Grilling is often par for the course on Memorial Day weekend. Maybe it's a rainy day, or you don't have the outdoor space. Never fear! You can still satisfy your desire for summer classics right in your kitchen.
We spoke with chef Gabriel Ross, who teaches culinary fundamentals at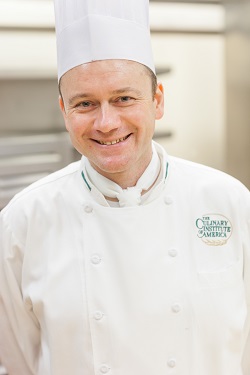 the Culinary Institute of America in New York. As a meat specialist who spent 15 years living in New York City apartments, he's the perfect candidate to teach a crash course in celebrating America's independence without a grill.
"July 4 is one of the busiest times of the year for the meat business," Ross said. "The things people are thinking about are barbecue, like ribs, pulled pork or barbecue chicken. Those are the flavors we associate with the holiday. Those preparations can be accomplished inside."
Just as with other big cooking holidays like Thanksgiving and Christmas, you'll cut down on a lot of stress by preparing as much as possible in advance. Ross walked us through indoor preparation for a collection of grilling favorites:
Barbecue: You can get the same texture of traditional, slow-grilled barbecue chicken or ribs by slow-cooking meat in the oven, Ross says. "It's harder to get that smoky flavor, but most people will slather it with barbecue sauce. The ribs are tender, the chicken is tender. It's a pretty good approximation. Most people won't be able to tell the difference, aside from the lack of grill marks." Ross recommends cooking the meats covered at 275-300 degrees. "If you're using St. Louis-style spare ribs, it could take 3-4 hours to get it nice and tender. Baby back ribs are a little leaner and cook faster. They might take only 1.5-2 hours. Once they're tender, take them out, rub them down with your favorite sauce and throw them under the broiler."
The slow cooking can be done 2-3 days before you'll be eating the meats, Ross says. "Store them in your refrigerator, then take them out and blast them in a hot oven or under the broiler. Then you won't have to spend the whole day cooking."
Chicken: Chicken will cook faster than pork, Ross says. "I recommend dark meat because the white meat tends to dry out," he says. "Breast meat tends to cook a lot faster." Cover chicken legs or thighs and cook them slowly until they're tender. "They usually only take 45 minutes to an hour," Ross says. "They're not going to be golden brown and crispy, but it's just the first stage of cooking. You can put sauce on and put them back in the broiler and nobody will know the difference."
Pulled pork: Pulled pork is a major time commitment. It's typically cooked slowly over a charcoal fire for 6-8 hours. "It's actually much easier to do inside, especially if you have a slow cooker." Ross suggests using pork shoulder, picnic shoulder or pork butt. "Those cuts are great for pulled pork," he says. "The pork butt or shoulder butt is the perfect size to fit in a large slow cooker. You can rub it down, put it in with a little bit of liquid, and cook it slowly until it's falling apart. Then add your favorite sauce. You can cook it overnight, while you're sleeping, and serve it right out of the slow cooker."
Hot dogs: Ross's New York City roots have made him a fan of the "dirty water" boiled hot dog, which is easy to prepare on your range. "If you want to do a bunch of dogs at the same time, put a pot of water on, add some salt to preserve flavor, keep the water right below boil. You can keep them there as long as you want." Add sliced onions or beer to the water to add flavor. However, if you're determined to replicate a grilled hot dog, consider cooking it on an indoor electric grill or a panini press. "Take the dogs, split them lengthwise, and put them on the grill. You'll get the grill marks and crispy skin." As a last resort, put the hot dogs under the broiler until they start to blister, Ross says.
Burgers: Attaining the outer crust that comes with a grilled burger is more challenging indoors, but still possible. "Whatever you're cooking it in has to be very hot," Ross says. "I recommend, if you have it, a cast-iron skillet. Preheat it until it's smoking hot. Brown the burgers on both sides. If you want to cook it more, put it on a cookie sheet, in a hot oven until it's done. You won't get that smoky char, but you have a little more control and won't have to deal with flareups or fire." The faster you brown outside, the more moist the inside will be, Ross says. Make sure you cook ground beef until the center reaches at least 155 degrees Fahrenheit.
Shrimp: Here's another summer favorite that can be prepared in advance. "A simple shrimp cocktail is easy and straightforward," Ross says. But if you want grilled shrimp skewers, the broiler makes a fine substitute for the grill. "If you have a cast-iron skillet, you can do the shrimp on there. Get it nice and hot, kind of blister them on that cast iron."
Vegetables: There's still room for vegetables on this meat-centric holiday. "If I'm doing sausages or hot dogs, I like to do some peppers and onions to put on top." Vegetables also make a great side dish on the Fourth. "A nice hot oven is a dream for preparing vegetables," Ross says. "I'll cut them into chunks, often with a little oil salt and pepper, put them in the oven until they start to color outside." Ross is also partial to serving fennel alongside sausages, and roasted zucchini. "Go all the way up—most home ovens will go to 500 or 550," Ross says. "A lot of people are afraid to do that. Keep an eye on it and know those vegetables will be done within 5-10 minutes. You have to turn them a couple of times."
Dessert: Keep it simple, Ross recommends. "With all the heavy meats and other foods that go with the holiday, sometimes simple fresh fruit with whipped cream and a little poundcake or sweet biscuit is all you need."
Ross has recently started to take advantage of the immersion circulator (also known as sous vide), which has given him an easier path to grilled meats. "I cook everything in the circulator," he said. "I take it out of the bag, get a good hot fire, and basically just mark it up on the grill. It only takes a good minute or two to get grill marks."
Clearly, a lack of a grill is no reason to skip that tasty, traditional Memorial Day cuisine. From your oven to your slow cooker, your appliances will give you the tools you need to cook up a memorable holiday meal.