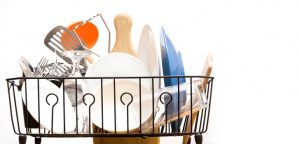 Over their more than 130-year history, dishwashers have radically altered the post-meal ritual of "doing the dishes." Besides taking most of the work out of scrubbing and drying, dishwashers use far less water than it takes to do the work by hand. They also sanitize dishes and can even rinse away food allergens.
Loading and unloading the dishwasher is part of the kitchen routine, and many dishwasher users habitually select the same cycles and settings every time they wash the dishes. That's okay if you generally wash the same number of dishes that require the same level of cleaning. But if your needs change—say you need to wash pots instead of dishes, or you're cleaning up after a particularly messy meal—taking advantage of different cycles can help save you time, effort and energy. Your dishwasher can most likely handle most food-related messes — they're tested to deal with the worst.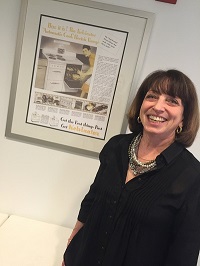 Navigating the seemingly endless options of dishwasher models and features can be daunting, and it helps to have a guide. We reached out to Carolyn Forte, Good Housekeeping's Home Care and Cleaning Lab executive director  and a longtime friend of AHAM, who has worked with hundreds of dishwashers over the course of her career.
Cycles
Most dishwashers come with a variety of cycles to allow you to adjust the level of wash depending on what you're washing, and how much cleaning is needed.
Rinse: Appropriate for very light cleaning jobs
Quick: These may range from a half hour to about an hour, Forte says. They're made to tackle lighter cleaning jobs.
Normal: For your day-to-day, average dish needs
Pots and pans: For larger, perhaps more heavily soiled cookware
On many models, you'll also find specialized cycles, like anti-bacterial, sani-rinse and others.
Choosing the right cycle
Your use and care manual will offer a description of the capabilities of each cycle. "If you have lightly soiled dishes, normal or quick wash should be fine," Forte says. "If you have stuff that's baked or dried on or it's after a normal meal, you should do an auto cycle. If you have really baked-on stuff or cookware, go for the pots and pans cycle. Know what you're putting in and use the features to get the best clean."
Racks
While you'll still find plenty of models with two racks, some manufacturers have added third racks to handle certain types of dishes and flatware. "One area dishwashers have distinguished themselves is racks," Forte says. "You'll find folding racks, clips to hold plastic lids, special jets for water bottles. If you do wash those, they're also very helpful."
Smart and connected features
Like many other appliances, dishwashers are steadily incorporating smart and connected features that offer functions like remote operability and repair diagnosis. Forte has worked with models that allow users to start or stop the dishwasher with their mobile device, and others that report when something in they cycle has gone wrong, like a blocked spray arm. Some models offer leak alerts and may even shut off when a leak is detected. Voice controls are also arriving. "Were seeing dishwashers that are Alexa-enabled," Forte says. "You can start and stop it remotely."
Get the best wash
Now that you know about dishwasher features, it's time to talk technique. How can you minimize the dishwasher headaches like dishes that don't quite get clean, cups that flip over and collect water, and dishes being knocked around during the cycle? How you load the dishes matters. "Some people are meticulous, some don't care," Forte says. "You have to load it right. If the water can't reach it, it won't get clean. Look at what the manual recommends. Make sure nothing is blocking anything else."
Pots and pans should go on the bottom, upside down, Forte says. "Make sure they aren't blocking each other.
Bowls can go on the bottom or top.
Glasses should go on the top rack. "Rest them against the tines, don't put them over the tines," Forte says. "It can put spots on the glasses or stress the glass."
Spoons should be placed alternately up and down in the flatware basket. If you have a grid over the basked, they can all be placed with the handles facing down.
More dishwashing tips
"Make sure you use enough detergent, but not more than you need," Forte says. "If you have hard water, you might need more detergent." And you might not have realized that your dishwasher needs to be cleaned once in a while, too. Clean the filter regularly to dislodge any food waste. Look for detergent specially made to clean dishwashers, and follow the instructions in your use and care manual.