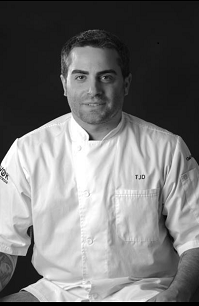 Grilling on Independence Day is a tradition for many. And while the aroma of grilled food wafting through backyards and neighborhoods is a time-honored part of the July 4th experience, cooking outdoors isn't always an option. The good news is you can still create plenty of culinary fireworks right in your kitchen. We talked with Chef Thomas J. "TJ" Delle Donne, assistant dean of culinary relations and special projects at Johnson and Wales University in Providence, Rhode Island, to get his insights on planning and executing a Fourth of July meal without the grill.
Choosing the Menu
In our last post, we looked at how to prepare traditional July 4th favorites like hot dogs, burgers and barbecue indoors. Delle Donne recommends looking at local cultural influences and ingredients to add a unique twist to your Independence Day celebration.
"We have a vast culture across the country," Delle Donne says. "At any four corners of the U.S., we can find true, authentic flavors of other cultures."
"If you're from Rhode Island, you have a huge Italian and Portuguese influence," Delle Donne says. "If you're from down South, you'll have a Latin American/Cuban influence. If you're from Arizona, the Southwest, you'll have a Mexican influence. It's an American holiday, so we want to stay true to American traditions. But if you're looking to entertain in a different way, celebrate those traditions as well."
As you look for local ingredients, you may find you pick up some valuable cooking advice as well. "Get to know the farmers," Delle Donne suggests. ""You can meet them at any farmers' market. See what's out there. Maybe you'll do a red, white and blue potato salad, a fennel bowl. Sometimes, those farmers are cooks, too, and they can give you some awesome ideas."
In the kitchen
There's little you can do on the grill that you can't do in the kitchen, Delle Donne says. "Grilling has a very unique definition," he says. "You're getting flavor and aromatic aspects from a source of fire that's traditionally wood or charcoal. With a gas grill, you're getting a radiant heat source and achieving a sear like you'd get in a pan. The effect you're getting from a gas grill is a sear and a roast. It's the same thing you have in your house."
"Your broiler is radiant heat," Delle Donne says. "It's grilling upside down. If you think about it that way, you have the same appliance."
Even outdoor standbys like beer can chicken can be cooked indoors. "Use a high-sided roasting pan and a mirepoix of vegetables to make a flavorful sauce," Delle Donne says. "You can add some garlic and celery. You can probably get four chicken roasters in the roasting pan. You get the temperature high enough and you'll have that nice, crispy chicken."
You can recreate the appearance of grilled food indoors. "You can add grill marks by getting the oven hot enough and using the oven rack," Delle Donne says. "You're using your appliance as your grill substitute. The only thing you're missing is the charcoal."
The flavor of smoked vegetables can be brought inside as well. "If you have a good hood system in the house, you can smoke on the stove top. Smoked mushroom salad is delicious. You can smoke your sliced summer squash, your corn. I use a four-inch pan, use a steamer-type basket that fits in that pan, soak wood chips and use the perforated pan in that rack. Put it on the range in a low heat and let those wood chips smoke. Have good vents." Delle Donne doesn't recommend this technique for meats.
Planning
Plan your menu in advance, Delle Donne says. "I'm a big proponent of mise en place. It means 'everything has its place, everything in its place,'" If the Fourth is on a Tuesday, spend your Sunday getting things together. Write the menu down. What do you need for each menu item? That's where a lot of people go wrong. The menu drives everything."