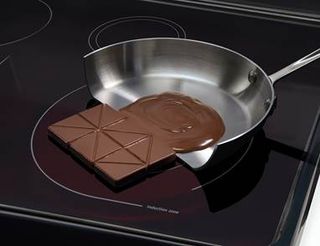 If you've shopped for a new range or cooktop recently, you may have seen some are induction. Although induction has been around for quite a while, it's only recently started to catch on as home chefs look for an alternative to electric burners. In fact, 15 percent of electric cooktops shipped last year included an induction burner! This is a three percent increase from 2013.
So what is induction and how does it work? An induction burner looks very much like an electric smoothtop burner and is heated using an electromagnetic field whereas a conventional electric burner uses radiant heat. Unlike cooking with a conventional electric burner, induction burners only transfer heat to magnetized pans so you could place a chocolate bar directly on an induction burner without it melting! Therefore, you'll need to make sure your cookware is induction-capable and you can do this by simply holding a magnet to the underside of the pan or pot. Additionally, induction is also highly energy efficient since heat is only transferred directly to the pan
If induction has piqued your interest, you can learn more  through any manufacturer's website or, CNET's website has additional information behind the science of induction. Lastly, several years ago The New York Times published a detailed article about the pros and cons of induction.