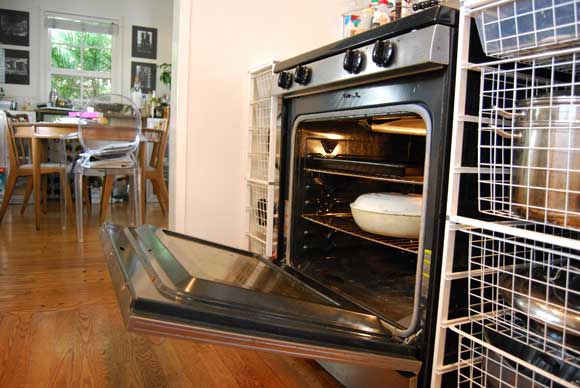 Have you taken steps to prevent range-tipping accidents in your home?  Typically, range-tipping accidents occur when a child climbs on to the open door of a range which has not been secured to the floor or wall by an anti-tip bracket and the child's weight causes the range to tip over onto the child. This can cause death or serious injury from the weight of the range, plus burns and scalding injuries from hot food and liquids that fall from the cooktop.
According to the Consumer Product Safety Commission, 78% of tip-over accidents that led to injuries involved furniture, 18% involved televisions and 4% involved appliances. Tip-over accidents occur in most rooms in the home, but only 4% occur in kitchens. That's compared to 45% in bedrooms, 24% in living rooms and 29% in other areas of the home.
Range-tipping is easily prevented, and taking right measures can reduce the risk to almost zero. Here's what you can do to remove the risk of a range-tipping tragedy from your home:
Have an anti-tip device installed: S. safety organizations, including UL, require that manufacturers include an easily installable anti-tip device with every new range. The devices prevent tip-over accidents by securing ranges to the floor or wall. All AHAM members that manufacture ranges adhere to the safety and stability requirements. The devices anchor the range so that it will not tip over. Manufacturers also require that anti-tip devices be included as part of installation. Check with your installer to make sure this is being done. Contact your range manufacturer, appliance dealer or an authorized service agent if you aren't sure whether anti-tip device was installed or if you think you need a replacement anti-tip device.
Keep the door closed: Keep the range door closed when the appliance isn't in use.
Talk to your children: Educate your children on the proper, safe use of the range. Tell them that the open door should never be used as a step.
Keep the weight off: Never use the door of the range as a step or to support other objects, such heavy pans that may be inside the oven cooking.
Check your range for an anti-tip device: If you don't know whether an anti-tip device has been installed on your range, it's easy to find out. Take a look under the range to see if it's anchored to the floor, or pull gently on the back of the range to see if you're able to pull it off the floor. If you aren't, it's likely that an anti-tip device is installed.
Appliance manufacturers include the installation of range-tipping devices in their instruction manuals. But ultimately, it is the responsibility of the consumer and the professionals who install the ranges to make sure the anti-tip devices are installed.
AHAM has been a leading voice for the prevention of range-tipping accidents. Its extensive public education campaign led to manufacturers including information on preventing range tipping in their manuals. AHAM has also worked to educate building inspectors and code officials, federal housing officials, building managers, landlords and insurance companies.
Get AHAM's brochure on how to protect against range tipping.