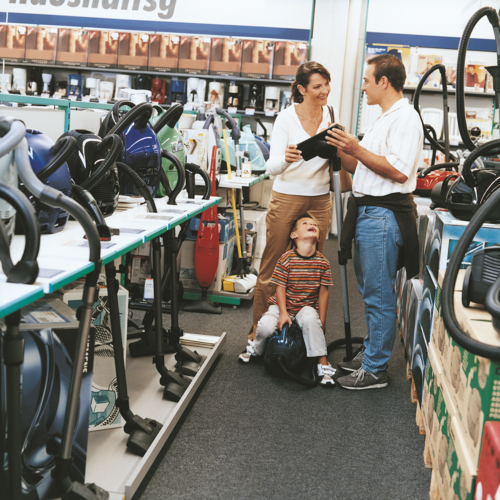 Canister or upright? With a bag or without? These are just a few of the questions you might have when trying to decide which vacuum to buy. Finding the right one can be more difficult than you think, especially if have pets, have limited storage space or have to carry the vacuum up a flight of stairs. If you've shopped online or in the store then you probably know that vacuums come in a variety of styles to fit every budget – just like cars.
AHAM has assembled some buying tips courtesy of HuffPost Home:
Keep in mind what you'll use your vacuum cleaner for the most: "The toughest job for a vacuum is deep-cleaning carpets, which is what our research says is the number-one job people want in their vacuum. Equally important is being lightweight enough that it's not hard to push, pull, lift and generally maneuver. Third is durability," says Consumer Reports Senior Home & Yard Editor, Ed Perratore.
DO: Buy a vacuum that works with your lifestyle. "We test for pet-hair pickup and find that some models do very well at getting up what their pet sheds without the hair wrapping around the brush. Neither uprights nor canisters have the edge there. For apartment dwellers, the size of the unit matters a lot. If you have lots of carpets, we recommend bagged uprights since they tend to have the best airflow and suction. If you don't want to lug around an upright and also maybe vacuum stairs a lot, consider a canister. And for general pickup of spilled dry items and dust, many people also have hand, stick and even robotic vacs–though you can't count on them for deep-cleaning."
DON'T: Forget that it's all about HOW you use the vacuum. "There are a few ways to vacuum "wrong." Never vacuum water or even a wet floor; use a wet/dry vac instead. Change your bag or empty your bin promptly; it affects available airflow. Ditto for the filters; inspect them every couple of months. If you vacuum up something big like a sock, turn the vacuum off right away–besides blocking airflow, you could break the belt, which is there to protect the motor. And if you vacuum a bare floor like wood or laminate and don't turn off the brush (or don't have a brush on/off switch), you'll wear away that floor's finish over time."
View the complete article here.
Also, GoodHousekeeping.com has advice on keeping your vacuum running smoothly for years to come. Here are a few of them:
What's the difference between a canister and an upright vacuum?
A canister vacuum is generally more versatile. Like uprights, canisters handle carpets, but they're also great at cleaning bare floors, vacuuming stairs and sucking up dirt from corners.
Which is better — a vacuum with a bag or a bagless vacuum?
Neither is better. The Good Housekeeping Institute tests show that both clean equally well. Which you buy depends on personal preference. Bagless cleaners save you the trouble of having to buy extra bags, but they can be messy to empty, and the filters and dust containers must be kept clean. While vacuums with bags keep dust and dirt contained, they are tricky to retrieve an earring or small object that gets sucked up accidentally.
Do more amps mean better cleaning?
If you're tempted to buy a model with the highest amps, horsepower or watts, you might want to think again. These numbers are simply measurements of the electrical current used by the motor. A vacuum cleaner's performance depends on airflow, the amount of suction it produces, and other factors including the overall design and attachments.
You can find more Good Housekeeping tips here.