The 2020 traditional holiday meal will have a different look and feel for many. In addition to smaller gatherings, many who were used to bringing a dish or bottle of wine to the big meal might find themselves heading up the kitchen operations to produce the full meal.
After eight months of COVID-related restrictions, your home might look a little different, too. Maybe you took steps to adapt your home to telework or schooling at home, or expanded your food storage capacity. Shipments of chest and upright freezers have skyrocketed during the pandemic, with AHAM data showing shipments of chest freezers up over 125% in October over the same period last year.
Any freezer, whether you have one or two, is a useful tool to help you stay organized while preparing a holiday dinner. Preparing what you can in advance will reduce your stress level and let you focus on a few dishes at once.
What should you freeze? We managed to catch up with a chef who can help you answer that this holiday season, which can be a busy time for professional chefs. You may have seen Lan Lam, senior editor of Cook's Illustrated, presenting recipes on America's Test Kitchen. Her experience covers a spectrum of cuisines and many years cooking in restaurants.
We ran down the list of holiday favorites with Lam to get her advice on what can be frozen, and what's best prepared fresh. Organization is part of cooking, so as you plan and prepare your meal, remember the culinary gospel mise en place – "everything in its place."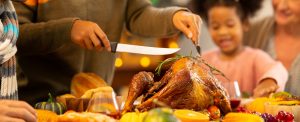 Turkey: We'll start with the main course. Most people won't be reheating frozen cooked turkey, but thawing a turkey is practically a holiday tradition in itself. Defrost it in the refrigerator, especially for larger roasts, Lam says. Give it enough time to thaw. "If they're partially frozen, you're going to run into food safety issues," she says.
Mashed potatoes: Save time by preparing this beloved comfort food in advance. "Mashed potatoes are great for freezing," Lam says. They might look a bit soupy during the reheating process, but don't worry. "When you first defrost them, they'll look like a soupy mess," Lam says. Frequent stirring as you warm them up should take care of the problem.
If you opt for scalloped potatoes, consider making them the day of instead of freezing, as freezing can dry out the dish.
Sweet potatoes: The same rules apply. "If they are mashed or pureed, go for it," Lam says. "If you're scalloping them or putting them in a casserole, it's not a great candidate for freezing."
Stuffing: Whether stuffing should be frozen depends on the recipe and consistency. "If you have a stuffing that doesn't contain a ton of cubed vegetables, you could fix that in advance" and freeze it," Lam says. "If there are huge chunks of vegetables, you might end up with something that's a little soggy."
Dinner rolls: These comforting carbs store well in the freezer. Lam recommends warming them in a 300-degree oven and wrapping them in foil to maintain moisture and avoid charring. (Accept right now that you probably are going to eat one too many.)
Gravy: This one gets an enthusiastic "yes" on freezing. "Make it two or three weeks in advance if you can. It holds really well and saves you so much time," Lam says. Need a recipe? Try Lam's "Game-Changing Gravy."
Fruit pies: "If you are going to make pies, you can prepare the dough, even up to six weeks in advance," Lam says. "Make sure it is tightly wrapped so it doesn't dry out in the freezer. Pull it out two days before you make your pie and put it at fridge temp." Fruit pies also freeze well. "You can make your entire pie, start to finish, and pop it into the freezer raw," Lam says, though she advises against egg washing a pie that will be frozen. "You can bake them frozen. Just follow the recipe." Lam suggests adding 10-15 minutes cooking time and keeping a close eye on the pie as it bakes. "Cover the rim or entire crust with aluminum foil if it happens to be browning quickly."
Pumpkin pie: Keep these out of the freezer. "I wouldn't try to make that frozen," Lam says. "When you freeze a custard pie, pureed in that way, the ice crystals kind of pull water out. When you defrost, the water isn't perfectly incorporated. You end up with a curdled pie instead of something creamy and luscious."
Lam stresses that there are recipes for these favorites that are designed to make the food easy to freeze. So, there are ways to freeze pumpkin pie and other dishes that she might choose not to freeze.
Ready for leftovers? They should be refrigerated or frozen within two hours, and generally, eaten or discarded within four days – about the amount of time it will take for many of us to eat what's left over and swear off eating for the next few weeks.