With the holidays in full swing, kitchen appliances, from major appliances like the oven and range to portables like the stand mixer and immersion blender, are being put to good use across the U.S. to turn out holiday favorites from turkey to cookies to pies. Appliances are extremely safe when used properly and are tested for safety long before they make it to your kitchen. However, the holidays are busy times in the kitchen, and it is easy to get distracted and lose sight of kitchen safety, especially if you are hosting a large group.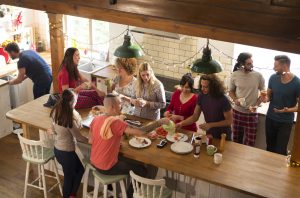 Unattended cooking is still the leading cause of home fires, according to the National Fire Protection Association. In fact, NFPA reports that Thanksgiving is the peak day for cooking fires, followed by Christmas Day and Christmas Eve.
While you're putting together your menu and planning for the big meal, it's a good idea to take a step back and review basic cooking and kitchen safety practices. Follow these steps to keep your kitchen safe and your holiday guests happy and well fed:
Always monitor what is cooking: If you have to walk away for a minute, ask a family member or guest to keep an eye on the range.
Wear close-fitting clothing or short sleeves to reduce the risk that clothing will catch fire.
Clean your oven and range before cooking to prevent food and grease buildup.
Turn pan handles inward to keep them out of the reach of children and prevent dangerous spills.
Watch out for dangling cords: Keep portable appliances unplugged when they aren't being used, but make sure the cord is in a safe place and can't be pulled or snagged.
Don't use appliances near the sink to reduce the risk of electric shock.
Use the right microwave cooking times to avoid overcooking food and potentially starting a fire.
What to do if a cooking fire happens
Fires can happen even in the safest kitchens, and it's important to know how to respond in the event a fire does break out.
Call the fire department, directly if possible. Often, a direct call (rather than calling 911) will allow the fire department to respond more quickly. Keep the number of the local department on hand.
Smother any grease fires by sliding a pan over the flames. Turn off the heat and leave the pan in place until it cools. Don't try to carry it outside.
Keep a box of baking soda nearby to put out any other fires. Never use water or flour to put out cooking fires.
Keep a fire extinguisher in the kitchen, within easy reach. Make sure it is a type that will work on cooking fires.
Keep oven and microwave doors closed if a fire breaks out to smother the flame.
Stay organized, stay safe and enjoy the process of putting together the biggest meal of the year. And take advantage of appliances like your freezer to get a head start.