There was a time when choosing carpet for your home meant picking out an unassuming, neutral tone like white, beige or gray and laying it throughout the house. Today, consumers often venture beyond the safe choices of the past and look to their carpet as an opportunity to make a statement.
"Regardless of the fiber, they want a look that is personalized," says Teresa Tran, director of soft surface portfolio management, residential, for carpet and flooring manufacturer Shaw, Inc. And, Tran says, that's not necessarily about whether you prefer loop pile, cut-pile Berber, or another common carpet style. While no one type of carpet stands out as a trend, Tran says, Shaw has found that consumers are looking for a full range of colors to choose from and carpet that is durable, easy to clean, and stays looking like new.
"We're seeing a big trend in patterns, small-scale solid or something that is very bold," Tran says. With less focus on uniform carpeting throughout the home, Tran says, homeowners are more willing to go with a bolder pattern in high-traffic areas like the bedroom and family room. That might mean a traditional pin dot, diamond, or geometric pattern with some variation, Tran says.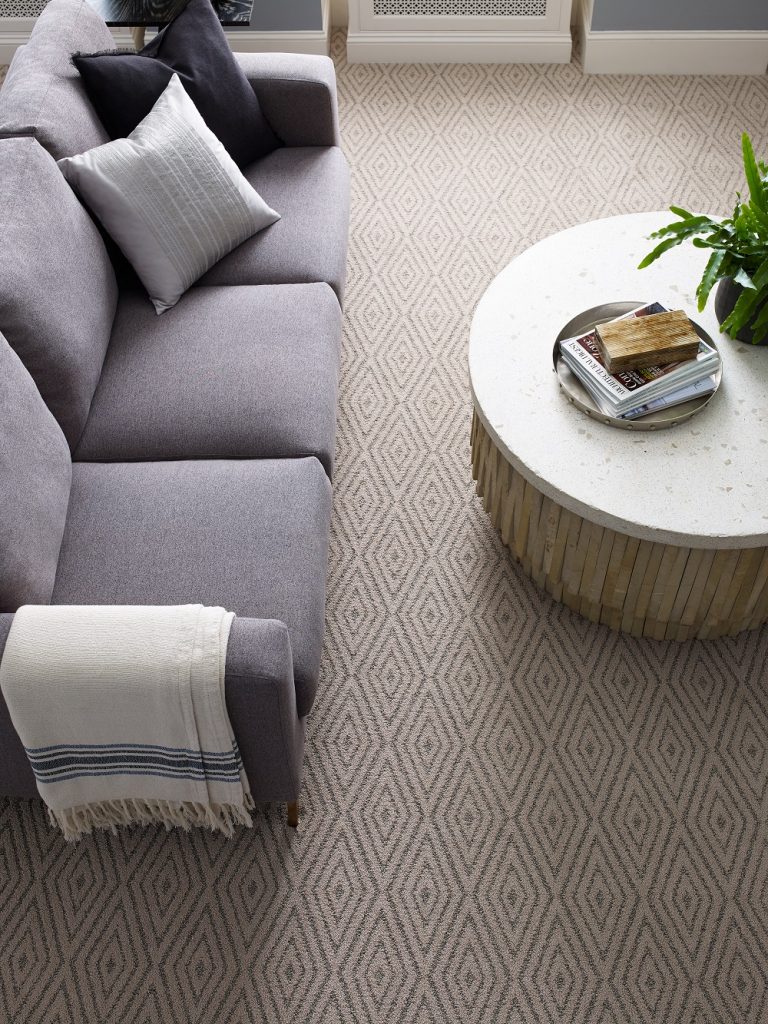 The preference for personalization has led carpet manufacturers to change their approach as well, Tran says. "It used to be that we would develop products on capacity, fiber types," she says. "Today, we're doing it differently, trying to understand what the consumer needs. The way carpet is manufactured today, I don't think a consumer has to go for a specific style. It's okay to take chances in patterns and visual."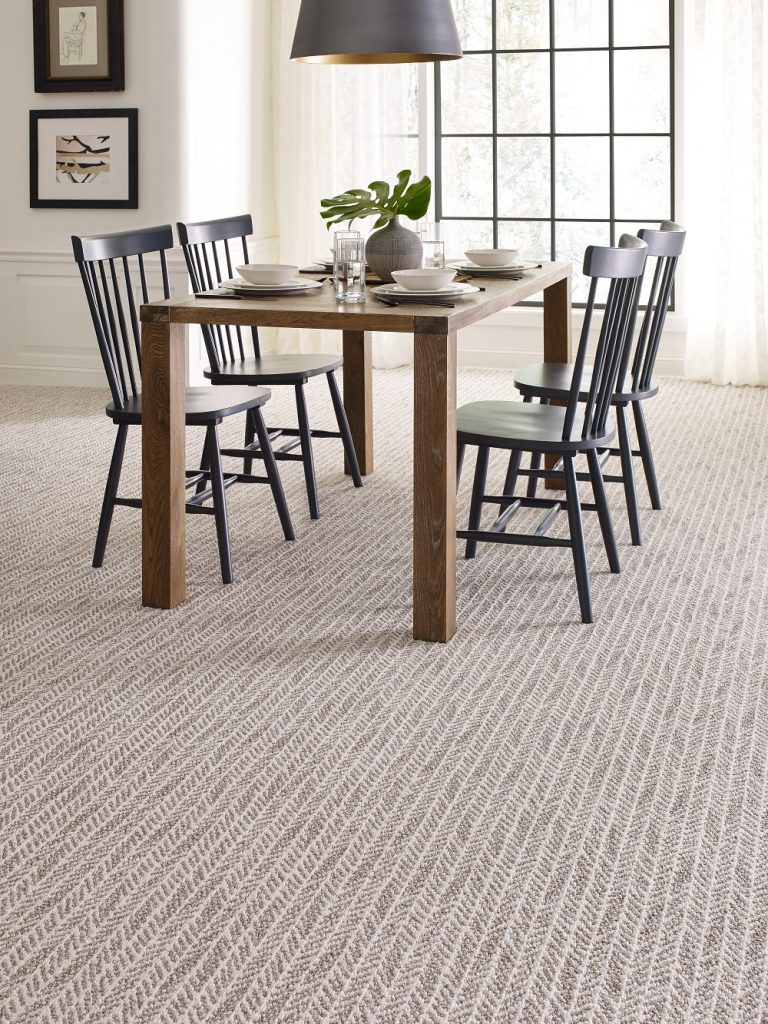 With hard surfaces trending, many consumers are also opting to put rugs in as a way to personalize their space. Most types of carpet can be customized into rugs, Tran says.
If the look of the carpet reflects your personality, the type of carpet construction and fiber you select should be based on lifestyle, foot traffic, how much you use the room and for what purpose. If you have pets or children, for example, you probably want a carpet that is stain resistant and durable. The carpet manufacturer and retailer will likely have some suggestions based on your needs. Take a look at this primer from the Carpet and Rug Institute:
Cut pile: Known for durability, good for high-traffic areas
Textured plush: Good for busy households, hides vacuum and foot marks well
Saxony: Ideal for interior rooms.
Frieze: Curly texture that minimizes footprints and vacuum marks
Plush: Dense and luxurious. Better for low-traffic, formal areas of the home
Loop pile: Loops at uniform height, common with Berber styles
Cut-loop pile: Combines cut and looped yarns for a varied texture, adept at hiding soil and stains
Whether you prefer a bold color, busy pattern or understated neutral tone, all carpets and rugs need regular and proper vacuuming. The style of carpet you choose will affect the way you vacuum.
A common misconception is that all carpets and all vacuum cleaners are the same, says Rob Green, senior design engineer with Dyson. Check the use and care manual or manufacturer's recommendations for your model vacuum to see whether it is an appropriate choice for cleaning your carpet.
Here are some other factors to consider when vacuuming your carpet that will help keep it looking like the day it was installed:
Style of carpet matters more than materials: "The material the carpet fibers are made from does not affect the vacuuming techniques as much as the construction of the carpet," Green says. Tuft and weave are important to consider when vacuuming. "The depth of the pile and length of each tuft, the construction of the backing, and the bonding between the piles and the backing should drive vacuuming technique more than material." This means a cut pile, deep/long, twisted tuft may be more susceptible to fuzzing or fraying if it is cleaned with a rotating brush bar than a short, looped pile, regardless of the material. Consult the carpet's use and care manual for specific recommendations.
Choose the right height: Generally, deeper carpets and longer piles require greater penetration from the vacuum's bristles for better cleaning, Green says. However, he adds, it is important to know the recommended cleaning of the flooring to ensure the carpet is suitable for cleaning with and will not be damaged by a rotating brush bar.
Is a robot doing the work? Robotic vacuums have seen countless innovations and improvements in the more than two decades since they first hit the market. However, Green says, they still call for a different approach than conventional vacuums. Robots may be less adept at cleaning certain surfaces. "The deeper and thicker a carpet, the more resistance it will give the robot, potentially making it harder for the robot to move," Green says. "Also, consider that the robot is working on an algorithm and will not detect delicate surfaces such as rugs that might now be suitable for cleaning with a rotating brush bar."
Need for speed: Consider the type of carpet when you're choosing your speed setting. When you are vacuuming thick or deep pile carpets, or carpets with rubber backing, a lack of airflow could cause the vacuum to limpet down, Green says. "At this point, it may be desirable to reduce the suction power to allow ease of use," he says. "This will come at the cost of cleaning performance."
What type of carpet do you prefer? Tell us in the comment section!