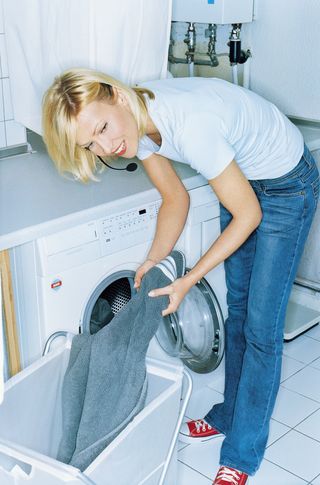 There aren't very many people who enjoy doing laundry and sometimes that chore can be even more stressful when the laundry room is cluttered and disorganized. Whether you have a big laundry room or just a space big enough to hold your washer, dryer and detergent, you probably don't have to invest much time or money to make it better organized.
HGTV's website has some simple tips to help you get
started:
Contain Your Cleaning Supplies:

 

A common source of
frustration in the laundry room (other than endless piles of dirty clothes) is
finding a place for all those cleaning supplies. Solution: Store cleaning
supplies in a carry-all caddy or open-top storage container.
Go Vertical to Dry Clothes:

 

The too-small laundry room often suffers from a serious lack of hanging

space, resulting in clothes draped over the dryer, cabinets and doors. Vertical space is often the most overlooked area in these rooms. Install a retractable clothesline or buy an inexpensive freestanding drying rack to reclaim some much-needed space in the laundry room. Imagine, counter space that's actually used to fold clothes.
Presort Dirty Clothes in Hampers:

 

Cut down on laundry time with an organized method for presorting clothes.

If space is available, add three laundry hampers (we love the idea of color-coding or labeling) for whites, lights and darks.
More tips from HGTV can be found here.
Better Homes & Gardens' website also has additional tips on how to declutter your laundry area to match your style and needs.