COVID-19 has, in many ways, turned our lives upside down this year. With work and school now taking place remotely for many of us, the way that we use our homes has changed dramatically. The home appliances we rely on for comfort and convenience are filling more roles in our lives than ever before.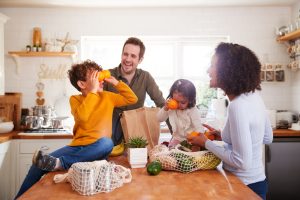 Over the past five months, AHAM has been gathering resources to help you adapt to our new normal. Wondering about the difference between cleaning and sanitizing, how to make the most of your freezer space or turning your kitchen into a multi-function room? We have that information, and more, in AHAM's COVID-19 resources.
Sanitizing Cycles and Other Ways to Kill Illness-causing Bugs
Working at Home? Homeschooling? Making your Kitchen Functional During the COVID-19 Quarantine
Quarantined? Using what you have at home
How to Improve Your Living Space, Simplify Life, and Build Comfort During COVID-19
Organize Your Refrigerator and Reheat Leftovers for Food Safety
Your Guide to Appliance Repair During COVID-19
Indoor Air Quality is an Essential Part of a Healthy Home
Get the Most Out of Your Freezer
Ask Your Manufacturer Before You Disinfect Your Appliances
Is there a COVID-19 topic you'd like to see us cover? Let us know in the comments.