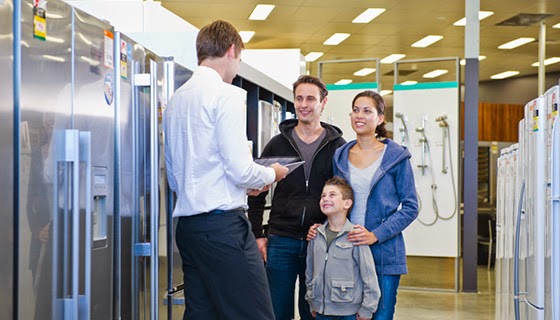 With the holiday season upon us, shoppers are doing their research and looking to take advantage of deals on home appliances. Across the board, from floor care to personal care, retailers and manufacturers are planning to deliver you innovative and energy efficient products this holiday season.
And while the majority of consumers who buy appliances get what they're looking for, some will return them, even if they're working.  AHAM, along with Bellomy Research, recently conducted an extensive study on why consumers return small appliances that are in good working condition. Here are the top five reasons:
Appliance did not perform the way the customer expected
The appliance was smaller than the customer expected
Appliance was a gift the recipient did not like or want
Second thoughts about the color, style or model
The customer found another model they liked better
Overall, though, there was one underlying theme behind why consumers return products: they did not have a clear understanding of what they were purchasing before the purchase.
So what can shoppers to do avoid post-holiday returns? While AHAM's research suggested improvements manufacturers and retailers could make to reduce return rates, it's up to the customer to do their own homework—and they know it. Our study found that "some customers also feel they should have completed more research before purchasing, or wished for an easier set-up process.??
Then what can you, as the consumer, do? Here are AHAM's tips:
Go "hands on": Product demonstrations are commonplace at many retailers now, allowing you to visualize and use the product before purchasing. This can eliminate confusion about issues such as size, performance, and quality.
Read and watch online reviews: There are limitless resources online for consumers to learn about a product, and potential features that affect decision-making. Videos are both abundant and valuable because they allow you to see the actual product being used.
Research the product through the manufacturer's website and owner's manual: Appliance makers strive to be clear about the features and benefits their products offer. Whether online or on paper, they provide extensive resources that allow the everyday consumer to understand what they are buying before a purchase decision is made.
Contact the manufacturer directly: This is perhaps the most important tip, but many shoppers don't realize it's an option. Only 40 percent of people surveyed said they had spoken with the product's manufacturer before returning an item. Most manufacturers have resources to answer your questions and resolve almost any issues before a return becomes necessary.
Do you have any tips you feel should be added to this list? Please share them with us in the comments.
Follow us on Twitter – @AHAM_Voice for more updates, tips, and data trends from the home appliance industry!