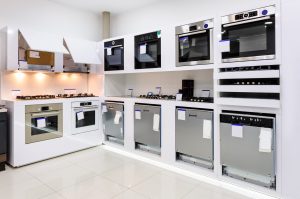 Are you getting ready to buy a major appliance, like a refrigerator, washer, dryer, oven, dishwasher or room air conditioner? It's a big decision that likely will play a role in your day-to-day life and routine for years to come. It's essential that you do the necessary research to find the appliance you need. Here are 11 tips to make sure your next major appliance fits the bill:
• Get the specs. Ask your dealer for specification sheets from several manufacturers who build the type of appliance or appliances you plan to purchase. Compare available features, designs and capacities.
• Know what you need, and what you might need later. Decide which features you will really use, and what you might need down the line. Some appliances may include the options of adding features later, like installing an icemaker in a refrigerator.
• What's your price range? Compare prices in relation to what the appliance offers, which will vary by model. Price tends to increase as features are added.
• Decide on the size. How much clothing needs to fit in your new washer? Will the refrigerator hold enough food? Is the room air conditioner powerful enough to cool the room? Know what size and strength you'll need so you can select a model with sufficient capacity.
• Consider the care. Ask your dealer for the appliance's use and care manual and read it carefully before you buy the appliance. The manuals for the floor models should be available. Reading the manual will give you a better idea of how the appliance tell you about any special care it needs.
• Will it fit? Check the space available for the appliance to make sure your new appliance will fit, and make sure halls and doorways allow clearance for entry and installation.
• How is it getting there? Ask the dealer about the cost of delivery and installation. Are they included in the price?
• Find the fix. Make sure authorized factory service is available in your area for the brand you select.
• How does it fit your routine? Check the product's design carefully to make sure it meets your needs and accommodates your habits and favorite cookware.
• Check the power. Avoid overloaded circuits by making sure your house has adequate electrical service for the appliance. Check for adequately grounded, three-hole receptacles.
• Do a little light reading. Read the warranty before finalizing your decision. Does the warranty cover the entire product? Only certain parts? Is labor included? How long does the warranty last?
The number of options you'll have may seem overwhelming, but following these tips will help you find the appliance you need. Good luck in your search!