Over the course of the nearly two-year COVID-19 pandemic, people have relied on their appliances more than ever. And that is true for all appliances, from the refrigerator to the clothes washer to the stand mixer.
It is rarely convenient when an appliance requires service. But COVID-19 has added another layer to the usual routine of appliance repair. In addition to finding a servicer and arranging a convenient time for repair, you also have to consider what steps the appliance repair provider is taking to mitigate the risk of COVID-19 exposure. That's especially true as positivity rates around the U.S. reach all-time highs.
"People who normally cook once or twice a year are now using their ovens every day," says A.J. James, owner of Pegasus Appliance Repair in Dallas, winner of the 2019 Most Professional Servicer Award from the Appliance Service Training Institute. "People are using every appliance more. They're running dishwashers at the highest sanitization setting. Their fridges are stocked to the gills with all the stuff they've been buying. We have been getting more calls for chest freezers."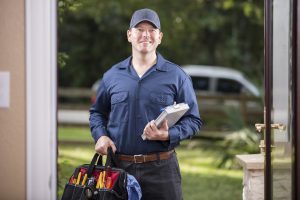 Some questions you should ask the appliance repair provider in in advance to find out about their COVID safety measures are:
Will the technician be wearing gloves, disposable booties and a mask?
How will payment be handled?
What are the company's rules on handwashing and sanitization of equipment?
Is the technician willing to maintain a certain distance from the customer during the visit?
Is the technician an authorized service provider for your appliance brand? Authorized technicians are trained by the appliance manufacturer and have access to the parts, technical information, and, in some cases, software specific to your appliance type.
James has implemented strict protocols, ranging from mandatory handwashing to keeping 10 feet — further than the recommended six — between customers and technicians for the duration of the visit. Handshakes are out.
"It all goes back to the guidelines set forth by the CDC," James says. "Social distancing is a key factor. We're asking customers to stay in another room. Any coughing, an accidental sneeze, is kept in that other room." So far, customers have been understanding. "It's the new norm, and people get it. We aren't going to put anyone in a situation where they put themselves or others at risk. I need to make sure we're not taking something from house to house. We have been able to keep a happy medium while getting appliances fixed and keeping any sickness at bay with our team."
Customers can prepare for the visit by providing a readily accessible place for handwashing. "It should be done immediately when the technician gets in the house," James says. "We ask that they provide the technician a place to wash their hands with hot soapy water and disposable towels. At minimum, it is done before and after the repair. Some will wash their hands several times. Customers have been very good at making sure they have that available for us." Technicians wear masks, gloves and booties and carry disinfectant, but rely on handwashing as their primary defense.
A bad flu season helped prepare technicians to take precautions against spreading coronavirus, says Alex Hallmark, an instructor at the Ohio-based Fred's Appliance Academy. Fred's Appliance provides repair and maintenance in the area and training for appliance technicians in the U.S. and globally. Their in-person training sessions have been put on hold.
"We were already doing handwashing, because that's the only way to stop flu," Hallmark says. "Our techs were trained on that from the get-go." They are relying on customers to establish their comfort level. "If the customer insists, do it three times. There's nothing wrong with peace of mind. If a customer is uncomfortable in any way, the best advice we have is not to get service until the stay-at-home orders are lifted."
Customers should set the ground rules before the technician arrives.
"Some will say 'Stay six feet away from me, let me know when you're ready for payment," Hallmark says. "We'll make a note. Make sure you're comfortable. We're not all addressing this the same way." If anyone in the home is experiencing symptoms, reschedule the appointment.
Customers and technicians should feel comfortable breaking off a visit if they become uneasy with the precautions being taken. "Now is not the time to be nice," James says. "If the customer won't stay 10 feet away, grab your tools and parts, exit the house. We'll call the customer."
When demand for service is high, essential repair jobs like a refrigerator not cooling may be prioritized over something that doesn't directly affect the appliance's function (like a dent or broken refrigerator handle). Customers should be clear about why the repair needs to be made. For example, a wine refrigerator might not normally be considered a priority, but that could change if it is being used to store medications.