It's the first day of school. You are rushing around, trying to get the kids ready and out the door on time. As you reach into your refrigerator to grab their lunches, you notice it feels warm inside. Your thermometer reads well above the recommended 37-40 degrees.
It is time to call a repair technician. This is one of those tasks that most people don't think about until something goes wrong. However, a malfunctioning refrigerator, range or other major appliance that you depend on every day will push the repair to the top of your priority list.
Your appliance needs to be fixed. Today.
A quick internet search will likely turn up plenty of options for repair technicians. But while you're anxious to put the repair behind you, you shouldn't necessarily hire the first repair technician that pops up in your search. You could see a significant difference in cost and time if you take a few minutes to ask some important questions.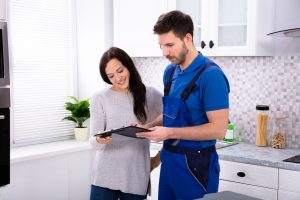 We picked the brains of three seasoned appliance technicians about what separates the great technicians from the good, and how you can make your choice.
The obvious place to start is online reviews, but read them carefully. "A consumer needs to look at a company's reputation," says Alex Hallmark, an instructor at the Ohio-based Fred's Appliance Academy, which trains appliance technicians from across the U.S. and around the world. "Any company can put on social media or a website that they're the best. What does everyone else think?" Look at the quantity of reviews as well as the quality, he suggests. "If one has 10 reviews and the other has 1,000, the quantity will show a trend."
Now that you have narrowed down your choices, it's time to get them on the phone and ask a few questions.
Are you familiar with my brand of appliance?
If you have looked at the repair technician's website or advertisements, you may have seen the phrase "authorized service provider" for certain appliance brands. This indicates that the technician has received training specific to that brand. That is important, particularly as appliances incorporate more sophisticated electronics, says A.J. James, owner of Pegasus Appliance Service in Dallas, winner of the 2019 Most Professional Servicer Award from the Appliance Service Training Institute.
"A lot of companies do all brands," James says. "The hard part of that is appliances are getting more computerized. The parts and computer boards are not just specific to the model, they're specific to the model and the revision."
What training have your technicians received?
There is no national certification for appliance technicians, but there are many private training programs. Ask if technicians have completed a specific training program or hold any certifications. Scott Brown, owner of Master Samurai Tech, an online appliance-training program based in Concord, N.H., says a certification indicated a technician made an effort to increase their knowledge. "Most customers aren't looking at who gave the certification, just that [the technician] took that extra step to get certified. Some techs are just passing through [the field] and aren't going to bother to get certified."
Brown, who has an engineering background, recommends probing a bit deeper into the technicians' knowledge of electronics. Over time, he has noticed that fewer technicians are able to read schematics, formerly a common skill, which can be important if a technician is confronted with an unfamiliar problem. "A lot of technicians tend to learn by pattern recognition—if this problem occurs on this particular model, replace this part, Brown says. "If that's all you have, you aren't going to be able to work on new models, because there is no pattern. There's nothing wrong with pattern recognition—that's what makes an experienced tech fast, but you don't want to rely on that."
What steps do the technicians take to protect your property and safety?
The thought of having a stranger in their home makes some consumers nervous. Simple steps like technicians wearing slipcovers over their shoes are important and show that they respect your home. "The days of coming in with a bucket and tracking muddy shoes are over," Brown says. "Do they wear a uniform? Are they IDd? Do they come into the house and put on booties?"
Transparency can put a customer's mind at ease, Hallmark says. "You're a stranger coming into their home," he says. "Do you have pictures of technicians on your site? Do you have reviews pertaining to that technician? We have reviews on our site broken down by city. It shares that we were on this street, at this time of day, we worked on this refrigerator and replaced this specific part."
"The more you share about yourself, the more comfortable they will be letting you in."
Ask if the company conducts background checks on their technicians. "We check for theft, identity fraud, and we check their driving record," James says. "If they don't have a background check, you're letting someone in, for an extended period of time, and you're taking a risk."
What if something goes wrong?
Ask if a company is insured. "I am 100 percent covered in the house for any agent in any capacity through the company," James says. "We have to make sure we're properly insured so we protect our homeowners and employees." Ask what guarantee the technician offers. "Every servicer should have a policy on their labor and parts," James says. "We do 90 days on labor, and we follow the manufacturer's suggested parts and warranty.
Finally, you should find out the company's policy on return visits. "You're paying for a professional diagnostic," Brown says. "If you replace [a part], and it turns out that's not the problem, how are you going to handle this with me? I want to know what their policy is. I don't want guesswork or extra trips. One, and at most two trips, and the appliance is repaired."