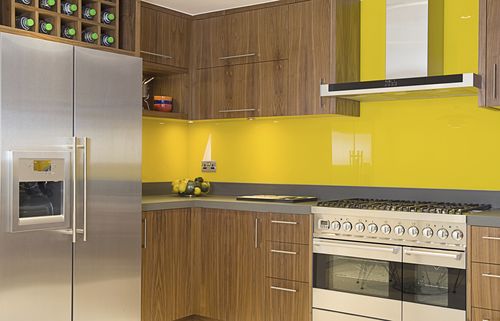 If you've been shopping for appliances lately, seen a home improvement program or browsed a design magazine, you've probably noticed a lot of appliances with stainless steel finishes. There's a simple explanation for that: it's become the most popular finish for the "core?? kitchen appliances (refrigerators, dishwashers and ranges). Ten years ago only 20% of core appliances had stainless steel finish but by 2014 that number had grown to 49%! Stainless is also a popular finish for vent hoods, microwaves and even portable appliances such as coffeemakers and toasters.
What used to be a finish reserved for mostly higher-end models now extends to more budget-conscious  models. Many consumers are attracted to the finish's sleek, contemporary appearance, especially those of us who grew up in a time when every kitchen we stepped into had appliances that were white, beige or even avocado green or harvest gold!
For someone who is thinking about redesigning their kitchen or simply replacing their existing appliances, the appliance's finish is one of the top concerns. Some questions to consider include "How will stainless steel integrate with my current or new cabinets???, "How can I avoid having a cold, industrial look in my kitchen??? and "How easy is stainless steel to keep clean??? AHAM has assembled a few resources to help you. HGTV has some suggestions from designers on how consumers can take advantage of the benefits of stainless steel and other materials:
You can soften the cold shine of stainless with granite and ceramic, says Karen Sciascia, designer for A Matter of Style in Cheshire, Conn. In a traditional or contemporary kitchen design, Karen favors cream-colored granite counters to offset the cold shine of stainless appliances. "The mica in the stone really picks up the soft gray color in the stainless," she says.
Read the complete article here. SFGate also has some tips on what colors blend well with stainless. Finally, Bob Villa tells you how to keep those new stainless steel appliances looking like they just came out of the showroom.