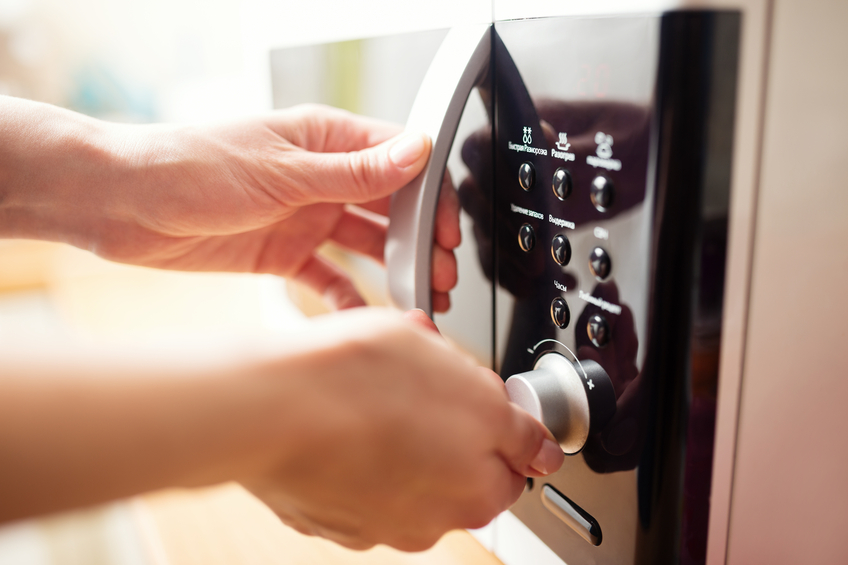 Microwave ovens are in about 90 percent of American households. They're great time savers and are regularly used to warm up leftovers, heat that morning cup of tea or defrost the evening's main course. That's their role in many homes. Their cooking capabilities, however, go well beyond reheating and defrosting. And if you take the time to learn, they'll take your cooking to new levels of convenience.
We recently chatted with microwave cooking expert Jennipher Marshall-Jenkinson, chair of the United Kingdom-based Microwave Technologies Association and author of Microwave Magic: The Heart of 21st Century Cooking, to pick her brain on a microwave's role in producing a home-cooked meal. Just as with using a range or oven, there's a method to microwave cooking, she said. The trouble is that many simply focus on cooking time, not technique.
"The most important thing about basic cooking in the microwave is understanding what you're doing," Marshall-Jenkinson said. "You have to understand and think about the cooking technique behind it. You don't cook everything in the microwave oven. You don't make roast potatoes or put a crispy edge on your chicken. But anything with its own moisture cooks perfectly. It's the perfect environment for saving time, energy and nutrients. In minutes, you can have a proper meal."
So how does one progress beyond popcorn, break free of frozen meals and harness the real cooking power of a microwave? Marshall-Jenkinson has some advice:
Get to know your oven: Microwave cooking is a skill, and it's going to take time and practice to perfect. Marshall-Jenkinson recommends starting with vegetables to set benchmarks for how long it takes to cook certain portions. She's also a big fan of microwaving all types of sauces. "If you follow the instructions, those are guaranteed to be successful." In addition, all microwaves aren't created equal. They vary in size and wattage, both of which have impact cooking times. Knowing your wattage will help you get a sense of your oven's capabilities.
Watch your turns: Many microwaves have turntables to rotate food and help it cook more evenly. If yours doesn't, you'll likely have to manually turn the dish at 90-degree angles and stir the food during cooking.
Put a lid on it: Microwaves cook foods in their own moisture, and a lid or cover will help it retain that moisture to improve cooking. "If it's allowed to evaporate, you won't end up with cooked food whatsoever," Marshall-Jenkinson said.
Make use of different power settings: Many microwave users simply default to full power for everything they cook. That's a bad move and can result in poor quality cooking. Find out what's best for the dish you're preparing. "I would never cook a cake or baked sponge pudding on full power," Marshall-Jenkinson said. "I would cook that on a medium-power setting. That means the heat developed within the dish as it's cooking has a chance to even out before you put another burst of energy in there." Remember, you're cooking, not just heating. "You can make a great casserole by bringing it to a boil on high and reducing the power to 10 percent and cooking at 10 percent for an hour and a half."
Be adventuresome: Don't be afraid to experiment with your microwave. Search out recipes and cooking techniques. "It's there to make your life easier. Use it instead of just heating up a cup of coffee in it."
Now that you know the basics, what should be your first microwave-prepared meal? "Any dish that is cooked for your family or makes your life easier," Marshall-Jenkinson suggest. She's a fan of the microwave's ability to quickly produce baked treats. "I'm a cake lover myself," she said. "A lovely sponge cake is going to take 3-4 minutes in comparison to 25 minutes."
Ready to give microwave cooking a shot? This recipe for microwave mac and cheese cups (with a gluten-free option included) from MOMables will help you prepare a quick, tasty meal for the kids:
Ingredients:
1/3 cup pasta, uncooked
1/2 cup + 1/8 cup water
1/4 cup shredded sharp cheddar cheese
2 teaspoons milk
Instructions
Add pasta and water into large soup bowl or mug
For regular noodles: Microwave for 6 minutes. Stop and stir at the 2 ½ minute mark, then stir every 45 seconds to 1 minute thereafter.
For gluten-free noodles (corn-based pasta), microwave for 5 minutes. Stop and stir at the 2 ½ minute mark, then stir every 45 seconds to 1 minute thereafter.
After the microwaving is complete, add in the cheese. Stir.
Microwave again for 25 seconds.
Add the milk, stir and serve.
What's your favorite microwave recipe?