If you're redesigning your kitchen, take time to think through what you're looking for and the styles and finishes that appeal most to you. Your decisions will impact your living space for years to come.
Though trends come and go, it's likely they'll have an influence on your choices in appliance style and finish. And since you're going to live with your kitchen and its appliances for several years, it helps to look down the line to think about not just what's hot now, but what elements of your kitchen design and appliances have worked well for you, and what you'll be happy with in the long term.
Those planning a redesign or remodel of a kitchen or those likely to purchase new appliances this year will want to read this. We spoke with three designers to get their predictions on the kitchen appliance trends that will dominate in 2018. Here's what they had to say.
Alana Busse, Alana Busse Design, Simi Valley, California
Variety in finishes: Want to add some color to your kitchen? While stainless steel appliances remain popular, the days of having white, black or stainless as your only choices are in the past. "Now's really an exciting time, because you're seeing all these colors, Busse says. "Now, we're seeing some new stuff. We're seeing black stainless, and orange and red colors in ranges. Gold and blue are really big this year. Everyone wants their cabinets plain, and the appliances are kind of the bling, the showpiece. Nobody walks in and says 'nice cabinets.' They say 'That range is amazing.'"
Wine chillers: People who are remodeling tend to enjoy their wine, but some more than others. Busse estimates about 70 percent of her clients who are remodeling their kitchens install some sort of wine refrigerator, often an under-cabinet model. "It's normally about 24 inches wide, 24 inches deep," Busse says. "It has the dual zones." The client's love of wine plays into the size of their wine chiller. Those that have the space and know their wine might install a full-sized wine chiller that's about the same size as a regular refrigerator, Busse says.
Under-counter ice: Just like their wine, remodelers are also looking to keep their other drinks cold by having ice ready to go. They're looking for under-cabinet ice makers and showing a preference for bar ice, Busse says. "Or, they'll want pellet ice," she says. "Some really like that if they're going to do frozen drinks."
Flat fridges: Homeowners are showing a preference for integrated refrigerators, Busse says. "When they're closed, they're really flat and in line with the cabinetry," she says. "We see people buying stainless or paneling the refrigerator." If a client goes for a black stainless refrigerator, they tend to get all their appliances in black stainless.
Steam ovens: Multiple ovens are generally part of a remodel plan, and steam ovens are popular requestes. "Everyone wants a steam oven," Busse says. "Every client swears their food tastes better than ever before, from making meat and vegetables to reheating pizza." Two ovens plus a microwave/convection oven are a regular part of remodeling plans. "If we can fit it, sometimes even a warming drawer."
Loretta Willis, Loretta's Interior Design, Atlanta
A personal touch: Willis encourages clients to add a design element that personalizes their kitchen, and that could be an appliance. "Featuring an appliance is a good way to personalize the kitchen," she says. "That's your color, you're proud of it. If it's offered in an appliance, go for it. A good designer can work that into the space."
More burners, more ovens: Consumers want to be ready for any kind of cooking or entertaining situation, and they're designing their kitchens with that in mind, Willis says. "Buy the largest cooktop your space can accommodate," Willis says. "Five to six burners is ideal." Second ovens are also popular, regardless of whether the homeowner is a serious cook. "Even if it's not an everyday need for the homeowner, it's a great resale feature," Willis says. Induction is also gaining popularity as consumers look to shorten the time they spend cooking.
Commercial goes residential: Recent trends have residential kitchens incorporating elements that used to be the domain of commercial kitchens, Willis says. "Basically, you need two ovens. If you entertain, you want a warming drawer and at least two ovens. Maybe one can be a combination microwave/convection steam unit. Your stove top might not just be a cooktop, it could also be a grill. Many homeowners are also incorporating coffee stations.
Cool cooling: Homeowners are looking for additional cooling appliances beyond the traditional refrigerator and freezer. Kitchens, Willis says, are being designed in "zones." "If you have kids, they might have their own zone—a pull-out refrigerator for water, soft drinks, or yogurt. I think you'll need an entertainment zone, where you'll have space for the wine chiller and beverages. It could be a second area for the overflow that maybe your refrigerator can't accommodate.
Easy access to portables: Do you have a portable appliance that you can't live without? Homeowners are building in coffee stations and keeping other portable appliances in mind during the design process, Willis says. "I love the look of a kitchen zone that's just for a breakfast bar with built-in coffee appliances," she says. "Then, I'm seeing the appliances you don't use as often—the heavy mixers, the food processors—can actually be stored in the lower cabinet with a lift, a spring-loaded action on the shelving to bring it to counter height. "
Technology: Expect charging stations to become a regular feature of new kitchens. And while consumers are interested in smart technology, it will also require them to incorporate new habits to take advantage of the new features.
Toni Sabatino, Toni Sabatino Style, New York
Jewel tones, black stainless, and matte black: "The design industry will follow the fashion industry and we'll see more jewel tones," Sabatino says. "Ranges, in particular, you'll see some statement colors emerging. Over the past year, we've seen things like turquoise. Color in a range is definitely going to happen." Expect to see more black and black stainless in other appliances. "Stainless has been the go-to for sort of an authentic restaurant vibe," Sabatino says. "Black stainless seems to offer practicality from a fingerprint standpoint, while playing off the black matte trend." Color will also show up in other appliances. "I see more copper and brass warm tones for statement range hoods," Sabatino says. "I find that either the cooking appliances make an impactful statement or not. They're either understated or standouts."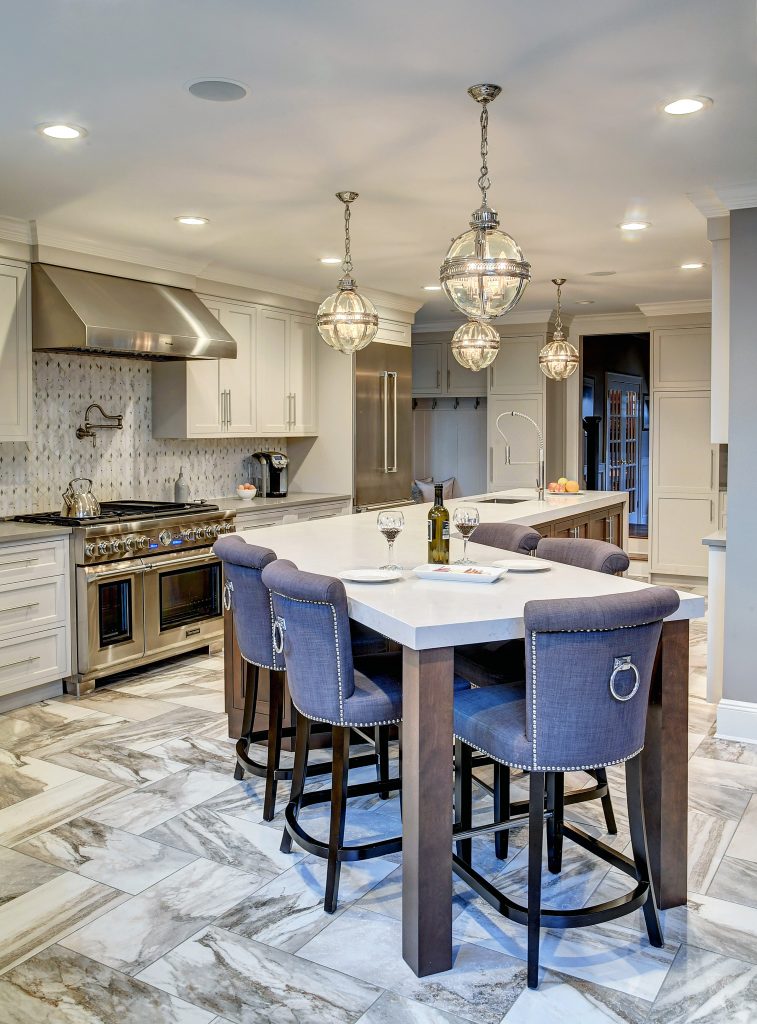 Kitchens gaining steam: Multiple ovens will become standard in kitchens, and steam ovens are here to stay. Steam ovens tend to be popular with health-conscious consumers, Sabatino says. "A steam oven has that sous vide quality. When you reheat something, it doesn't feel like a leftover. It gives a renewed freshness."
Modularity throughout the kitchen: We'll see more modularity in refrigeration and perhaps in cooking, Sabatino says. That means column refrigeration, undercounter refrigeration, and refrigerators with convertible sections that can switch between freezers, fresh food storage and wine. "We're allowing options because more people are opting for fresh food as opposed to canned, frozen or boxed."
Connectivity: Sabatino sees usefulness in connected appliances that can send signals and update appliances. Adoption may increase as new generations seek to remodel their homes. "I think that as the consumers who have grown up with connectivity become a larger part of the homebuying market, that segment is bound to increase."
Portable storage: People want easy access to their portable appliances, but don't necessarily want them in full view all the time, Sabatino says. "One of my favorite solutions is the pocket-door tall cabinet, where you have power and the doors aren't impeding use. You see more sliding or slotting doors in the urban environments."