For many families, the kitchen is so much more than a place to prepare meals. It's the heart of a home. It's a multifunctional space, and often the center of family life. Kitchens are natural gathering places, and they foster connection, communication, and the creation of cherished memories. Kitchens are spaces where culinary skills are passed down from one generation to the next, as parents teach their children how to cook, share family recipes, and instill a love for food and cooking.  
The kitchen is a focal point of the daily routine. It's where breakfast is prepared before the day begins, and it often serves as a space for family members to grab a quick snack or drink throughout the day. Many families have a kitchen table or island where kids can do their homework or study while parents prepare meals. And of course, kitchens play a central role in celebrating special occasions and holidays, as families gather to prepare and enjoy festive meals, reinforcing the importance of togetherness and tradition.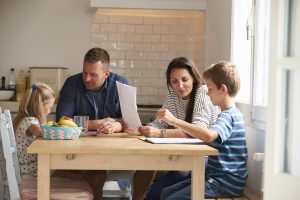 With the kitchen being the center of life at home, it's essential that they live up to their reputation as a multi-use space. That's where the desire to make the space function at its best comes into play. The good news is that it doesn't take a massive renovation to make a kitchen more functional! 
Designer Jamie Gold, who is both a Certified Kitchen Designer and Mayo Clinic-Certified Wellness Coach, has vast experience turning kitchens into multi-use spaces. Her book, "Wellness by Design: A Room-by-Room Guide to Optimizing Your Home for Health, Fitness and Happiness," focuses on designing spaces that promote well-being as well as function. 
Gold breaks down her process into what she calls the five facets of wellness design. They are: 
Health and fitness

 

Safety and security

 

Accessibility

 

Functionality

 

Comfort and joy

 
That last facet has particular significance. "People are stressed. They're anxious," Gold says. "Adding elements that bring happiness, that lift your mood and add joy is essential to your emotional wellness." 
Creating a functional space should encompass the following elements: 
First, clear the clutter. When a space like a kitchen takes on multiple functions, non-kitchen objects start to find their way to your kitchen countertops, rather than to their ideal spot. Gold calls these "family landing zones." You probably have one in your house—it's where your child puts their backpack or jacket every day when they come home from school. 
"It has been my experience as a designer and as a stepparent that the end of a kitchen island or corner of a counter just becomes a clutter magnet," Gold says. "You don't want to have it near your range. It takes up space. It can attract dust and dirt. It can become a fire hazard. The more people you have in your kitchen area at one time, the less clutter you want there." 
Decluttering can also have psychological benefits. "There's a definite wellness component," Gold says. "Clutter can create stress and anxiety." 
Safety check: Safety should be a priority, particularly around appliances. You might be familiar with the area, but make sure the setup is appropriate for others. "You don't want someone sitting between your prep area and your cooktop," Gold says. "You can have seating on an island. Just make sure it isn't in the cooking zone." 
Thinking about your kitchen in zones can make it safer and less cluttered. This means each area of the kitchen should be reserved for its intended use. "Your kitchen zones are designed around your appliances and fixtures," Gold says. "Your dishwasher is part of your prep and cleanup zone. Your refrigerator is part of your food storage zone. Your range is in your cooking zone." Make sure certain uses don't encroach on those areas. 
Clear the area of any trip hazards, like pet bowls, charging cables or cords in aisles or walkways. It's important to make sure the space is accessible for everyone in the house. 
During times when you have more people in the home for longer periods, you should pay more attention to indoor air quality. It's a good time to make sure your ventilation hood is in working order. A poorly maintained ventilation hood can generate excess noise and affect air quality, neither of which is helpful when you're trying to cook, or the kids are trying to learn. Add an air cleaner to further improve indoor air quality. 
Assess your portables: Take stock of your portable appliances and decide which should stay in the kitchen and which could be stored elsewhere. You might feel really busy, and you may be looking to save time, so you should also consider what additional appliances might make your life easier. 
This isn't necessarily about getting rid of portable appliances; it's about ensuring your kitchen's maximum function. "Let's say you have a standard 30-inch cooktop. You might want to supplement with a portable induction burner." Can you add appliances that give you healthier cooking options? "You might also consider a multi-cook appliance that has sous vide, steam and air frying capabilities." 
Prioritizing your portables and utilizing multi-function appliances is even more important if you're working in a small kitchen and need to make the most of your space. A slow-cooker can save time and cut down on foot traffic where space is limited. 
Get away from it all: We live stressful lives. Create a space in your home that allows you to get away from everything that's happening inside and outside the home. "Have a space that's electronics free, or where you only allow music through a smart speaker as opposed to news, a space where you can add plants, a fragrance and comforting elements. Scent is a powerful link to comfort and joy." 
Now that you've created a kitchen space that's usable, efficient, safe, comfortable, and healthy, you're ready to connect, communicate, and create memories as you celebrate the magic of family time.