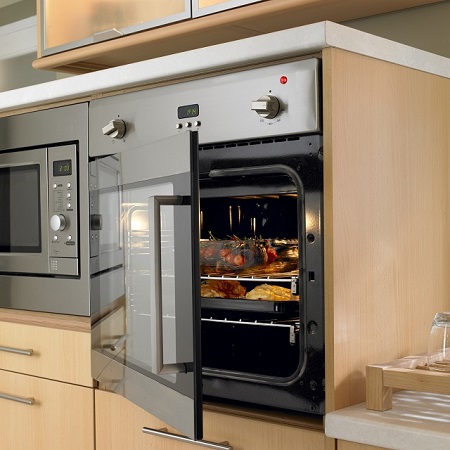 Universal design started as a concept aimed primarily at creating accessible, barrier-free homes for people with disabilities. But it has evolved into the concept of creating a comfortable, accessible space for all members of the household, and there are number of reasons why a homeowner may decide to pursue it during a remodel or renovation.
"Aging in place is a huge thing," said Chris Salas, owner of Cocina Interior Design in Calgary, Alberta, Canada, and a Certified Master Kitchen and Bath Designer. "Multiple generations may be living in one home. You may have small children and older parents living under one roof and need flexibility in the spaces according to who's using them. Resale is also a big factor. You aren't ruling anybody out."
Many appliances already incorporate universal design concepts and are easy for anyone to use, Salas said. But if you're looking to build a kitchen that's accessible to people of all sizes and physical abilities, there are certain features and elements you should consider when choosing your appliances. Salas, who has more than two decades of design experience, shared her insight on what homeowners who are pursuing a universal design concept should keep in mind.
Cooking
A traditional oven/range has limits to where and at what height it can be installed. Wall-mount ovens and microwaves can be mounted and placed at different heights according to the needs and abilities of the user, so they may be preferable. How the oven opens is also a factor. "Side-opening ovens are handy for everybody," Salas said. Think about how all household members will reach the controls, not just those for cooking. For example, you may choose to put the fan control at counter level rather than at the rear of or above the range, or use a remote-operated fan. Many cooking appliances already have safety features in place that are appropriate for universal design concepts, Salas said. "A lot of cooktops and ranges have an indicator showing that the surface is still hot. Some even have a lock-out so you can't turn on the cooktop without knowing how."
Dishwashers
You'll need adequate space and access to load and unload dishes as well as put them away. Salas has designed kitchens with all dish storage on the same side of the dishwasher door so those who are unloading the dishes don't have to go around the open door. Dishwashers with single or double pull-out doors rather than a standard design may make opening, closing, loading and unloading easier.
Refrigerators
Consider the width of the door swing and whether all parts of the refrigerator are reachable. "It might be hard to get out of the way of a 36-inch door," Salas said. "The smaller doors come in handy. The French door is probably the best invention for universal design." Keep the height in mind as well. "The door swings may not be as big as a one-door model, but you might not be able to reach half the fridge because it's tall." Salas recommends testing appliances before you buy them. "Some fridges have a really good feel but may be difficult to open," she said. "The bells and whistles might look or sound cool, but once you're living with it, it might not add value. Get out and try these things to make sure they work."
Outside the kitchen: Laundry
The height of the appliance relative to the user's needs is also a factor in choosing and installing clothes washers and dryers, Salas said. "Keep flexibility in mind," she said. "The washer and dryer can be on a pedestal. You can build them up onto your custom platform. It's all about the user's height. The front load is optimum for anybody to use."