Cuban cooking is about making the most of what you have. Its recipes aim to make a lot out of a little, using the ingredients that are on hand.
"They don't have a winter, but still can only get certain things at certain times of the year," says Guillermo Pernot, chef-partner of Cuba Libre Restaurant and Rum Bar. "When the fish don't swim by because migration comes in September, you don't have fish. Mangoes come at certain times of the year. Papayas come at certain times. Potatoes are difficult to find. Sometimes you don't have carrots, sometimes you don't have eggs. It's this wonderful struggle, in a good way. You can make food about almost everything, and make it fantastic."
Pernot was born in Argentina, but has focused on Cuban and Latino cooking for years. He spent time as a chef with a restaurant owned by Gloria Estefan Group in the 1980s, and went on to launch his own Latin-themed restaurant, Pasion, in New York. Today, Cuba Libre aims to represent an evolution in Cuban cuisine. He's also personally connected to the culture through his wife, who is Cuban.
"Simple" and "seasonal" might be the two words one would use to describe Cuban cuisine. Food on the island, which is about the same size as its closest U.S. neighbor, Florida, draws from a range of influences. Pernot, who has traveled to Cuba, described restaurants that take advantage of ingredients found nearby. You might find a Haitian influence in the eastern part of the island and ingredients like coconut, chocolate and chilis, Pernot said. Restaurants in the agricultural region of Vinales in western Cuba tend to utilize only local ingredients found in that region. "You find these little pockets of food culture throughout the island," Pernot says.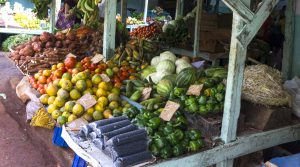 Family and food are two cornerstones of Cuban life. Extended families often live near one another. "Usually, people don't move far outside of the city," says Pernot. "They won't move more than five or six blocks away. The group stays together, and they gather every Sunday." The menu might include arroz con pollo, beer and maybe a roasted pig. They'll start the fire and cook over several hours. "People gather, they dance, they play music, they laugh."
"Food is about family, and Cubans are big on family and gatherings, enjoying life and food together," says Bruce Ozga, dean of culinary education at the North Miami campus of Johnson & Wales University. He has been observing Cuban cooking for more than 20 years in Miami, where the Cuban influence is strong. Preparing meals is also a family affair.  "The food is very important, and everybody loves to get their hands in the process," Ozga says.
"Everybody brings something and they come together and eat. But it doesn't stop there—it's the music, it's the dancing and having a great time with family."
So gather a group of your family and friends (and maybe a pig to roast). It's time to bring a little bit of culture from America's island neighbor to your kitchen.
Appliances & Ingredients 
Of course, a good range is important for braising and stewing, both common Cuban cooking methods. A multi-cooker or pressure cooker will be useful for cooking rice and beans, staples in Cuba, and stews like ropa viejo, a common dish at the Cuban table.
Shakes are common in Cuba—mamey shakes (made from the fruit of the native mamey sapote tree), as well as soursop shakes and fruit shakes like pineapple, mango, papaya. "The majority of the fruits they have are local, tree-ripened and ready to go," Ozga says. "Cubans love their sugar. They juice sugar cane. Orange juice is all fresh-squeezed. That's part of the culture." Shakes may also include milk, ice or vanilla extract.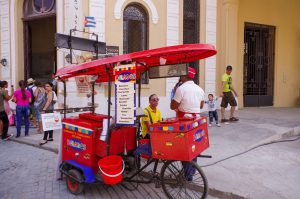 Get a good, durable pot for whipping up a big batch of arroz con pollo. Use a panini press to make grilled sandwiches, and a tortilla maker.
Cuban cooking calls for ingredients found in most U.S. kitchens: onions, garlic, green peppers, cumin, oregano, paprika, oil, rice, beans, eggs, pork, chipotle, diced tomatoes, lime, avocados and plantains.
Start with the basics. "You're not Cuban unless you're making a good pot of rice and beans," Ozga says. Pernot recommends putting together a simple meal of yellow rice and picadillo. Pork is always welcome at the Cuban table. Try your hand at plaintains maduros or plaintains tostones. For dessert, make a flan from condensed milk, evaporated milk, eggs, sugar and vanilla extract.
Embrace the simplicity of the menu. "Here we have a culture that makes a lot out of a little" Pernot says. "Not everything has to have the best fish or the most expensive ingredients. Just buy a tough cut of meat, stew it, buy peppers, carrots, potatoes and green peas. Make the best stew. Make the best rice possible. For $20 you can feed six people or more. We should learn how to do that."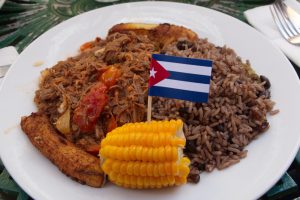 Finally, prepare and share the meal as a group, to celebrate the spirit behind the meal. "The people who escaped Cuba and settled in south Florida still keep strong roots and they keep their Cuban culture with them," Ozga says "They know where they came from, and they always seem to embrace life."