It's late on a Friday night when that unmistakable craving for Mexican food strikes. So what will it be? You could dial up the local restaurant to satisfy your urge to inhale a savory favorite like a burrito, taco, or enchilada. Or you can head to the kitchen. Before you break out your blender to whip up a fresh salsa, add to your cooking experience by learning a little about what you're cooking, and where it comes from.
Talk with chefs who have lived in Mexico and immersed themselves in the nation's culture, and you'll learn there's a lot more to Mexican food than those Americanized standbys. Our series on cultural cooking at home brings us south of the U.S. border, where the food is not all about yellow cheese and the spiciest pepper you can find.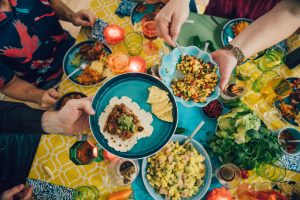 Food in Mexico is a way to socialize and welcome visitors into the home. "When you go to a house, the first thing they ask is if you have already eaten," says Mely Martinez, a Mexican home cook, food blogger and operator of Mexico in My Kitchen. "Maybe it's a very simple dish – it doesn't matter. The humbler people eat, the more welcoming they are. Maybe it's just a plain coffee and tortilla. It may be all they have, but they want you to feel welcome and they will feed you. It's the way they show appreciation because you are visiting."
Lunch conversation might turn to what's for dinner. "Everything revolves around food," says Douglas Cullen, a Mexican cooking instructor who recently moved back to the U.S. after living in Mexico for 25 years. Cullen blogs at Mexican Food Journal and recently launched Mastering Mexican Cooking, a cooking instruction website, and owned a restaurant and coffee shops in Mexico with his wife. "Food's a big deal in Mexico. It's how you share and bond with people. It's a happy thing, and everybody's always talking about it."
"Mexican cuisine" doesn't begin to encompass all of the cultures that have influenced the food there, says Joe Quintana, corporate chef for Rosa Mexicano, which has 10 U.S. locations. "It's such a diverse culture," he says. He held up tacos al pastor, which originated with Lebanese immigrants to Mexico, as an example. "People don't understand how Mexican culture has brought all of these other cultures together."
You don't have to travel to Mexico to bring the happiness and hospitality into your own home. If you're a novice, Cullen recommends starting with salsas. "Cooking Mexican is a bit different," he says. "In the U.S., you think 'I have chicken, I have beef, what can I make? In Mexico, it's 'I have this salsa, what goes with it? Basically, if it doesn't have salsa, and it has something hot, they'll say it has no flavor."
Any Mexican chef needs a good blender, for salsas, soups and sauces. "[Blenders] are so important for getting the fineness you need," Quintana says. "You'll want to control the chunkiness and make it less chunky, but not so it gets too fine." Salsa verde cruda, a green salsa, is one of the recipes Quintana recommends to beginners. "It has really simple ingredients – tomatillos, jalapenos, garlic, onions. There are so many things you can do to that recipe. Besides the freshness and the greens, you can take the same salsa verde and add avocado. All of the sudden, you have this creamy fresh salsa." Quintana serves it in the restaurant on lamb and fish.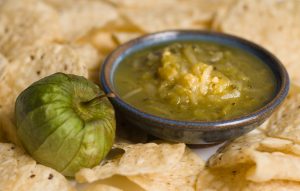 Mexicans in warmer regions might also make smoothies or blend bananas or strawberries with milk, sugar and vanilla extract for the children. Aguas frescas, or beverages made from blended fruit like papaya, melon, watermelon or cantelope and served with a meal, are also common.
Besides a blender, in a typical Mexican kitchen you're likely to find a coffeemaker, toaster and microwave. The microwave is mainly used for reheating, not cooking, Cullen says. Nearly everyone uses a gas stove, but ovens are rarely used. The cooktop is used heavily. It's where you'll find a steaming pot of pozole during traditional family gatherings.
"We prefer gas because we like to roast and char tomatoes in the flames," Martinez says. "Instead of warming up the tortillas in the skillet, some people like the flavor of charring the tortilla over an open flame."
Add a tortilla press if you're serious about cooking Mexican. Making tortillas from scratch takes longer, but it will add authenticity to your meal. "If you're making some nice barbacoa tacos, you'll need fresh tortillas," Quintana says. He also uses a comal (a flat griddle) and molcajete, a stone bowl equivalent to the mortar and pestle.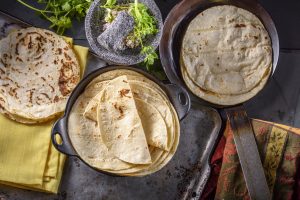 Learn ingredients
Chiles, tomatillos, tomatoes, white onions (not Spanish onions, which are sweeter and can throw off the balance of the food) cumin, allspice, black or pinto beans, masa arena (corn flour), dried peppers and fresh peppers are all essentials for Mexican cooking.
Learn the different flavors of chilies and don't automatically aim for the hottest. "The spice and flavor of the chili is an integral part of the dish, but nobody eats chili for the burn," Cullen says. "It's a seasoning, a flavor."
Ready to give it a go? These recipes from our chefs will help you get started.
Mexican beef stew with flour tortillas
Take your time and enjoy the process. "Cooking is a big thing for us," Martinez says. "It's not something you can do in 10 minutes." The person in charge of cooking for the family in Mexico might spend 90 minutes to two hours cooking for the main meal of the day. "For them, it's showing love to their family. The time you spend eating is like a ritual, because families get together. It shows we are still very traditional, a little bit old fashioned in the way we cook, and we want to preserve that."