Learning to cook foods from a culture outside of your own can add new depth to your home cooking. You'll discover new recipes, new flavors, and learn more about another culture's history and traditions.
Over the next few weeks, In Every Home will explore various ways you can expand your cooking repertoire and bring new cultures into your kitchen. And, of course, we'll look at the appliances you should have on hand to get there.
We're kicking off our series with Thai cuisine. Thai food has surged in popularity in the U.S. over the past few decades, becoming a dining staple for those who crave the cuisine's comforting and filling rice and noodle dishes and unique flavor spectrum.
"Eating Thai food will stimulate your palate," says Bee Low, a food blogger, cookbook author and native Malaysian whose site, Rasa Malaysia, specializes in Asian cuisine. "A lot of Americans aren't used to very sharp tastes. Thai food is a good introduction to Asian food in that you get a sharp tang, a sharp sweetness. The tastes are very strong. It gives you a peek into the culture – the food and everything is very exciting." Low works in Orange County, Calif., and visits Thailand regularly.
Thai dishes are defined by their combination of flavors: sweet, salty, sour and spicy. "Thai cooking is probably the only cooking that uses equal amounts of salt and sugar," Low says. "That's probably very distinct. In Asian cuisine, we don't use so much sugar. But, it's offset by the tartness and savoriness."
Thai food is often associated with spiciness, but it doesn't have to be spicy. "It's a combination of sour, sweet, salty and spicy," says Krong Na Songkhla, a Thailand native, cookbook author and Thai cooking instructor who operates San Diego-based True Taste of Thai. "You have to do combinations of flavors. People have the wrong perception that it's always spicy. It's not. Thai food has a punch of sweet, a punch of sour, a punch of flavor. Thai food is about the mixing – it's not only one flavor. I always tell my students: taste it, remember it, and whatever you like, you can adjust. But you cannot go only one way with Thai food."
The variety of flavors draws from the diverse group of cultures influencing the cuisine. "We're close to Burma, Laos, Vietnam. It's a mixed culture," Krong says. "You have Indian culture, you have Chinese, you have Muslim culture and Muslim food. We have Middle Eastern food. If you look at the dishes, we don't have our own curry. The curry we have was influenced a long time ago by India."
"Thai culture is very exciting, very energetic, very lively. It's moving, all of the time."
A few key ingredients will help you bring that Thai flavor punch to your kitchen.
Fish sauce: You won't find a lot of salt in Thai recipes. The salty flavor comes from fish sauce. "Every single dish of Thai food has fish sauce," Low says. "If you don't have that, you basically cannot cook Thai food. If you replace it with salt, it's just not going to taste the same." American diners will be better off purchasing the pungent sauce over trying to make their own. The odor will go away as the dish cooks, Low says, leaving the flavor behind.
Palm or coconut sugar: Palm or coconut sugar supplies the sweetness in many Thai dishes. "I always tell my students that when they make Thai curry, never use the regular white or brown sugar," Krong says. "Thai curry uses coconut milk, and somehow, it turns sour if you add those. If you use palm sugar, it tastes mild."
Thai chili peppers: They're sometimes known as bird's-eye chilis, and you'll need them to add your Thai cuisine's spicy kick.
Lime: You won't find lemons in Thai recipes. The sour flavor often comes from lime juice.
Tamarind: Another source of the sour flavor, often used in curry, salads or pad Thai sauce, Krong says.
"If you're a beginner, fish sauce and palm sugar are the two main ingredients," says Jirayu Poeter, owner of the Mama Thai Cooking Club, where she teaches holistic Thai cooking. "When you have those two things, you can make anything. Once you use those two ingredients, you can add one or two more." She encourages budding Thai cooks to familiarize themselves with the different types of soy sauces: light soy sauce, seasoning soy sauce and black sweet soy sauce.
Familiarize yourself with the flavor of the ingredients before you start cooking. "If you don't know the actual taste of the ingredients, you never know how to mix it together," Krong says.
Appliances and Kitchen Tools
You won't need to add a slew of new appliances to start cooking Thai. A good range will do the trick. You will use a wok frequently for stir-fries, but a nonstick skillet or deeper pan can also be used. "I like to use a nonstick skillet," Low says. "It's just the easiest, especially for someone who is just learning. I don't want people to get discouraged with stainless steel, with food getting stuck to the bottom." A deeper saucepan is useful for soups.
Consider adding a mortar and pestle to your kitchen to make curry paste, powder garlic and powder chili. "I always tell my students that if you don't have it, you can use the blender. But the texture won't be the same."
Krong recalled making curry paste with her mother, a tedious process. "I was pounding 10-15 ingredients together and mixing it until it was smooth, just to get two tablespoons." When she came to the U.S. two decades ago, she was amazed at how much easier curry paste could be made with a blender. "I use the blender to cut up the first round of curry. It still saves time. You use it for 5-10 seconds, then pour it out and pound for another 10 minutes."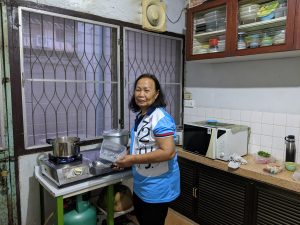 Ready to embrace real Thai flavors in your own kitchen? Our experts provided these recipes to start you off on your new cultural journey.
Crab Fried Rice (Courtesy of Jirayu Poeter, Mama Thai Cooking Club)
"Fried rice is the easiest one," Poeter says. "It could be chicken, shrimp or even crab. It's super easy. You can use leftover rice to make fried rice."
1 cup cooked rice
1/4 cup crab meat
2 cloves garlic chopped
1/4 cup white or yellow onion sliced
2 green onion sliced
1 tbsp oyster sauce
1-2 tbsp. light soy sauce (to taste)
1/2-1 tbsp. white sugar / raw cane sugar
1 tbsp. extra virgin coconut oil
1 egg
1/4 tsp ground white pepper
Garnish with tomatoes 2-3 sliced + 1 sliced lime + 2 stalks green onion
Preparations
Set the pan or a wok onto medium heat add oil. When oil is hot add garlic and onion stir until onion is cooked and garlic turn lightly brown and then add egg.
When egg start to cook then stir well to mix with onion and garlic.
Add the crab meat and stir well.
Add cooked rice, oyster sauce, soy sauce, sugar, grounded white pepper and mix well, add green onion and one last stir then turn off the heat.
Tom Yum Kung – Spicy & Sour Lemongrass Soup with Shrimp (Courtesy of Krong Na Songkhla, True Taste of Thai)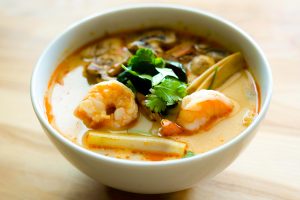 This recipe can substitute shrimp for chicken, fish, seafood, a variety of mushrooms or tofu.
1.5 cups chicken broth (or 1 can 14.50 oz.)
1 cup water
1 lemongrass stalk, lightly pound & cut into 2″ lengths
3 pieces dried galangal
4 kaffir lime leaves, tear in half & remove central stem
14 shrimp 
1.5 cup mushrooms, slice
1/4 cup coconut milk
3 Thai peppers, cut in half lengthwise
Cilantro
Seasoning sauce
3 tbsp. fish sauce
2 tbsp. lime juice
1 tbsp. Nam Prik Pao (roasted chili paste)
What You Need
Preparations
Bring chicken broth and water to a boil.  Add lemongrass, galangal, and kaffir lime leaves.
Add shrimp.  As soon as the shrimp is cooked through, add mushrooms and bring back to a boil.
Stir in the seasoning sauce, coconut milk, and chili peppers.  
Turn off heat and garnish with cilantro leaves.
In a Thai household, you are likely to find similar dishes on the table, regardless of the time of day. "We eat almost the same things at every meal," Krong says. "We can wake up in the morning and have pork with sticky rice. But, we share the dishes we cook. We rotate them, no matter the time of day." Family members will serve themselves a few bites at a time, keeping an eye on others' plates to make sure everyone has enough. "This is the way we share," Krong says. "We think about others, and what they like and don't like."