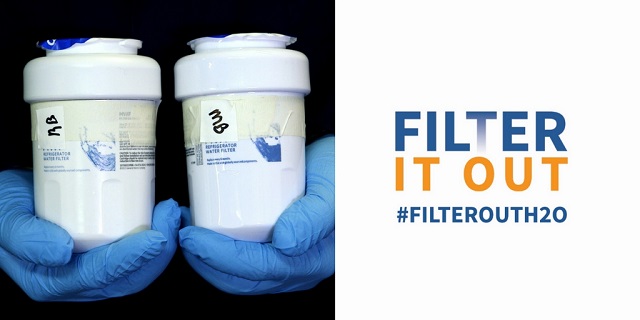 As the old cliché goes, you get what you pay for. Sometimes, you get even less.
It's hard to pass up a good deal. But when you're shopping for replacement refrigerator water filters, it's important to buy from a reputable seller. Otherwise, you may wind up with something that, aside from its outward appearance, is anything but a filter.
That's what happened to Shawn Neely, an Oakland, Calif. software developer, when it came time to replace his refrigerator water filter.  Neely, a self-described sophisticated consumer, generally shops online outlets like eBay in search of deals on filters. That worked well until August, when he noticed that the two replacement water filters he had purchased from an eBay seller looked a bit different.
"They were a lighter weight," Neely said. "The molding of the plastic looked a little more translucent. Everything had slightly rounder edges." There were stickers on the filter as well, which seemed to cover the brand name. He noticed differences in the packaging, too. "There were typographical errors and the fonts were different." Neely noticed the differences because he had ordered the same type of filters before. He knew something was off.
"Everything sort of screamed to me that these were counterfeit," Neely said. The seller was uncooperative at first, attributing the differences in packaging to high shipping volumes. Ultimately, the seller provided a refund. Neely sent the counterfeits to AHAM, who sent them to a lab for testing. The filters were tested to the certification protocol to which the original parts in Neely's refrigerator were tested. The filters that Neely provided should have removed at least 92 percent of the lead from the test water. The counterfeits met the requirement initially but the amount of lead that was removed soon dropped dramatically, to an average of 73 percent over the course of the testing.
Neely was fortunate to notice the differences. Had he installed the counterfeits in his refrigerator, he likely would have ended up drinking unfiltered water, potentially exposing himself to harmful contaminants. The counterfeits could also have caused leaks or other damage to his refrigerator. Instead of using the filters, he contacted the seller to complain, and reached out to AHAM after coming across the website of the AHAM-led Filter It Out campaign.
"I didn't realize at the time that counterfeit water filters were a thing," Neely said. "I was alarmed to read about the filters cracking and leaking."
"I learned a lesson," Neely said. "Certainly, buyer beware. Be alert. They were much cheaper, probably half to a third of the price." Neely says he'll still look for deals online, but he'll read reviews more closely. The seller he purchased the filters from had a solid overall rating, but a number of individual reviews that Neely noticed later raised some red flags. "If I had gone through the reviews more closely, I would have seen the complaints," Neely said.
Have you purchased a water filter online that you believe may be counterfeit? Tell us your story. AHAM's Filter It Out campaign is raising awareness of the serious problem of counterfeit water filters. Learn how you can find a trusted source.