Are you among the millions who get their drinking water from a refrigerator dispenser? During the busy back-to-school season, you might not be thinking much about your refrigerator water filter. But this year, with millions of students across the country starting their school year at home (and drinking more water there), it's a good time to do two things:
Check whether you need to replace your refrigerator water filter, and if you have extra replacement filters on hand.
Double-check that the filter you are using came from a legitimate source.
Why the concern about water filters? Counterfeiters have used the coronavirus pandemic and the ensuing surge in online shopping to push even more of their fakes to the market. The online sale of counterfeit refrigerator water filters was a problem even before the pandemic hit, with federal agents seizing more than 65,000 counterfeit water filters from U.S. ports last year. More online shopping may increase the chances that consumers will fall victim to those pushing fake filters.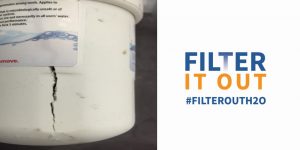 While many counterfeiters put together convincing products that are hard even for experts to spot, here are some signs that a replacement refrigerator water filter may be counterfeit:
An unusually low price: Counterfeiters often attract potential buyers with prices considerably lower than the price of brand-name filters, which are tested to ensure they meet industry and government standards. If the price seems too good to be true, the filter may be counterfeit.
Glossy packaging: The makers of counterfeits may use shiny or glossy packaging to make their product seem high quality, or nicer in design than the genuine product. But, be on the lookout for blurry, distorted or smudged graphics.
Missing certification symbol: A counterfeit product may not include a certification symbol indicating the product has been tested to industry standards.
Lighter weight: Counterfeit filters often weigh less than genuine filters, because they do not contain the materials necessary to filter water.
A counterfeit filter will not effectively remove contaminants. Some have even been found to contain no more than shredded newspaper or pebbles to simulate the feel of a carbon filter. They also put your health and property at risk in more ways. They can cause costly leaks, may damage your refrigerator, and may even add harmful substances to your drinking water.
In 2020, you have enough things to worry about. Make sure your drinking water isn't one of them by purchasing replacement refrigerator water filters only from refrigerator manufacturers or other trusted sources.