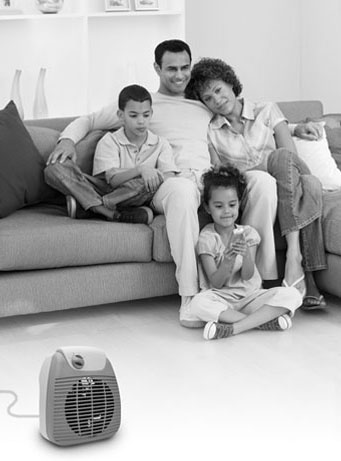 Temperatures are dropping around the U.S., which means many Americans will rely on warmth from portable electric heaters. These portable heat sources are a great way to keep warm through colder months, as long as they are properly used.
According to data released in November 2013 by the National Fire Protection Association, from 2007-2011 there were more than 3,300 fires as a result of portable space heaters. "Most fires are preventable by following the simple and important safety tips offered by AHAM, such giving portable heaters at least three feet of space on all sides,?? offered Lt. Anthony Mancuso, Director of the FDNY's Fire Safety Education Unit.  Portable electric heaters should be used according to the manufacturers' instructions so that injuries can be avoided.
AHAM urges consumers to follow these simple and important safety tips when using portable electric heaters:
Read the manufacturer's instructions and warning labels before using your portable electric heater.
Do not leave an operating heater unattended and always unplug heater when not in use.
Do not use your heater with a power strip or extension cord.  Overheating of a power strip or extension cord could result in a fire.
String out cords on top of area rugs or carpeting. Placing any¬thing, including furniture, on top of the cord may damage it.
More tips, and a safety podcast with Lt. Mancuso, are available on heatersafety.org.  Also, you may order AHAM's free "Stay Safe! Top Tips for using your Electric Heater Safely!?? brochure in English and Spanish by sending a request to info@aham.org.  Find more safety tips from the New York City Fire Department at www.fdnysmart.org.
Stay warm, be smart and stay safe while enjoying your portable electric heater!