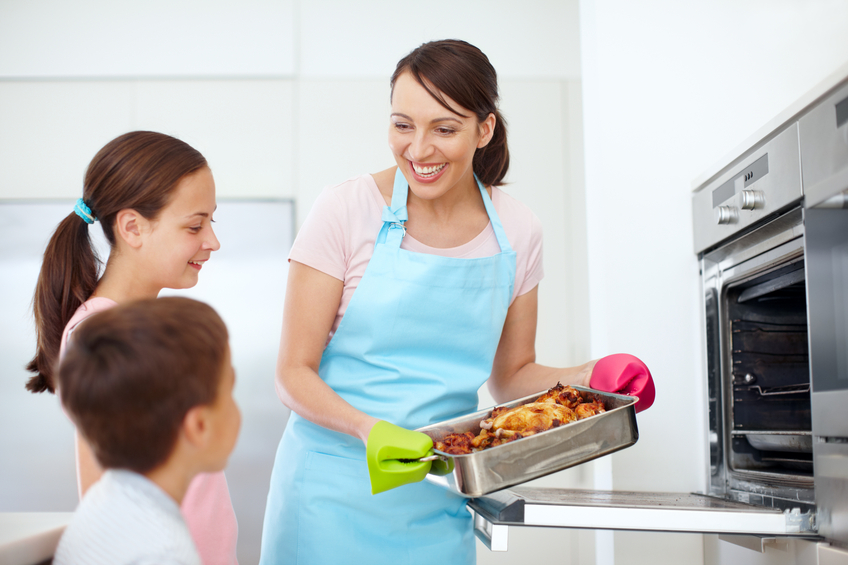 When used properly, home appliances have a proven and extensive track record of safety. Appliances are rigorously tested for safety long before they make it to retailers' shelves. Many of the accidents that involve appliances are easily preventable.
John Drengenberg, consumer safety director for UL, has been involved in the appliance safety and testing business for more than 50 years, earning the informal title of "Mr. Safety." He recently spoke with AHAM and shared some of the kitchen appliance safety knowledge he's gained over more than a half century spent in and around appliance testing.
Don't touch hot surfaces: Manufacturers design portable appliances to be carried and handled in a way to reduce the risk of injury. In the case of cooking appliances, handles and knobs are often designed to stay cooler than other parts of the appliance when the appliance is in use. "All crock pots come with two handles, and that's the way you should carry it," Drengenberg said. If a knob or handle breaks, contact the manufacturer for a replacement. Only the manufacturer's parts will have been tested with that appliance, and improvising or using one intended for a different model could create a risk.
Unplug your appliances…: Any appliance, regardless of whether it's turned on, poses the risk of electrical shock. Unplugging the appliance when it isn't in use will drop that risk to nearly zero.
…but don't let that cord hang: "Cords are a snagging hazard," Drengenberg said. A child can be injured by a falling appliance or burned by cooking appliances like crockpots or deep fryers. Some models include breakaway connectors to reduce the chance that an appliance will fall if the cord is pulled.
Don't toast your toaster: Toasters and other portable appliances shouldn't be stored near ranges. The heat from the stove can melt or damage the outer surface of the appliance. That both damages the appliance and could create other hazards if the inner components are exposed, Drengenberg said.
Keep  plugged-in appliances away from the sink: Plugged-in appliances used near the sink might fall into the sink, creating an electric shock risk. "Now it's turned on, in a sink full of water, in a metal sink," Drengenberg said. "It's a perfect storm."
Treat blades as knives: Most food processors include interlocks to stop the blade from rotating when the appliance is taken apart for cleaning, Drengenberg said. But the blades on blenders and food processors are sharp and should be handled with care during cleaning. "When you're washing the blender or blade, it's a sharp cutting tool," he said.
Set the proper microwave cooking time: Care for a potato or some popcorn? Cooking those two foods for too long is a common cause of fires in microwaves, Drengenberg said. When fires happen, it's often because the user mistakenly put too much time on the microwave and forgot the food was cooking, he said. Manufacturers have installed sensors in many models to shut the oven off in case of fire. If there's a fire in your microwave, turn it off and keep the door closed. Opening the door could make the fire worse.
Watch what's cooking: Most of the more than 100 million ranges and cooktops in use in the U.S. are used safely. But unattended cooking remains a leading cause of household fires in the U.S. and the leading cause of cooking fires. Monitor what you're cooking when your range or oven is in use. AHAM, appliance manufacturers and UL are working to reduce cooking fires through technical developments and consumer education.
Prevent range tipping: Never use the oven door for support or as a step. Check to see that an anti-tip device has been installed on your range.
Read your manual: The instruction manual for your appliance should include ways to reduce hazards. Appliance safety standards from UL contain a list of "important safeguards" that are to be included in instruction manuals, Drengenberg said.
Do you have a question about kitchen appliance safety? Ask us in the comment section, and we'll get an answer from "Mr. Safety."