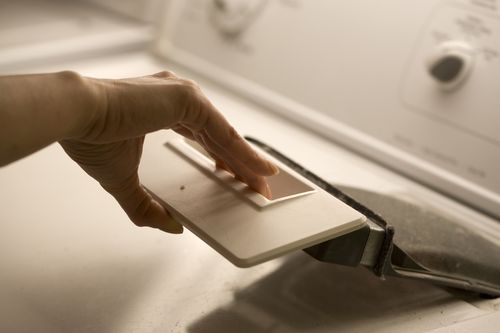 Proper installation and maintenance of clothes dryers are an important part of ensuring that the appliance performs as designed.
The dryer venting materials are an important factor in dryer performance and safety. AHAM recommends the use of rigid sheet metal or corrugated semi-rigid sheet metal venting material. Never use coiled-wire foil or plastic venting material.
Are your clothes taking longer to dry than they used to? Dryers need maintenance like any other appliance. In order to keep sufficient airflow around the heating source, lint must be removed from the dryer and vent. Lint and dust can build-up over time and reduce airflow, resulting in decreased performance, by not allowing air to circulate freely through the dryer. Don't forget to clean the back of the dryer, where lint can be trapped. Clean the lint filter before and after each load. The interior of the appliance and venting system should be cleaned periodically by qualified service personnel. Keep the area around the dryer clean and free of clutter.
Dryer Do's
Follow manufacturer's instructions on installing the dryer and vent system.
Replace coiled-wire foil or plastic venting with rigid sheet metal or corrugated semi-rigid sheet metal venting.
Clean the lint filter before and after each cycle.
Inspect venting system behind dryer to ensure it is not damaged or crushed.
Dryer Don'ts – Do NOT dry the following items in the dryer:
Anything containing foam, rubber or plastic (i.e. bathroom rugs, non-slip mats).
Any item which the dryer manufacturer's instructions specifically state "dry away from heat."
Glass fiber materials (unless manufacturer's instructions permit).
Materials on which there was anything flammable (e.g., alcohol, cooking oils, gasoline, spot removers, dry-cleaning solvents, etc.). These should be dried outdoors or in a well- ventilated room, away from heat even if they have gone through the wash cycle. Flammable substances give off vapors that could ignite or explode.
Fabric soiled with cooking oils.
A complimentary copy of AHAM's Clothes Dryer Safety brochure can be obtained by sending a request to info@aham.org. Large quantities of the brochure, as well as those on preventing range tipping, portable heater safety and cooking safety, can be ordered through AHAM's online store for a nominal shipping fee.