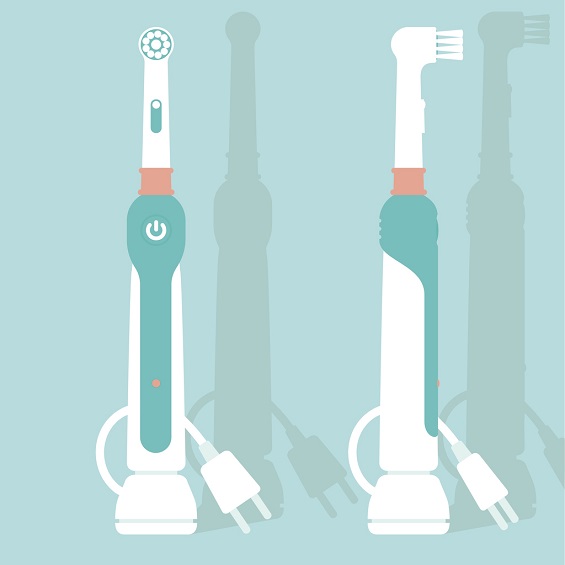 Just as they give you cleaner floors and clothes, your appliances can also help you have cleaner teeth. Electric toothbrushes take some of the movement out of brushing for you.
We talked to two dentists—Ana Ferraz-Dougherty of Rolling Oaks Dental in San Antonio, and Colleen DeLacy of Lexington Dental Care and Sandusky Dental Care in Michigan—about how electric toothbrushes fit into your daily brushing routine. Like any appliance, electric toothbrushes must be used properly if you want to harness the full benefits.
Here are some of their recommendations on proper electric toothbrush use:
Brush properly. "Make sure you're getting the inside and outside, the chewing surfaces," Ferraz-Dougherty said. This video from the American Dental Association will walk you through the proper brushing technique if you need a refresher. Remember that an electric toothbrush is designed to do the work for you. "You don't have to do that traditional movement," DeLacy said. "You just have to guide the brush head."
Store the electric toothbrush properly. Electric toothbrushes should be stored upright without a cover. "Don't enclose it in anything," Ferraz-Dougherty said. "The warm, moist environment promotes bacterial growth. It means you're not really cleaning your teeth if there's bacteria on your toothbrush."
Change the brush regularly. Change it every four months or once the bristles show signs of wear. "Soft bristles will be easier on your enamel," Ferraz-Dougherty said.
Choose the right-sized brush. The brush head should be comfortable and an appropriate size for your teeth, Ferraz-Dougherty said. "People who have larger teeth would want a larger brush.
Watch the pressure. Pressing too hard while brushing can hurt your gums. "Some of the newer models have built-in sensors that will give you an alert if you're applying too much pressure," DeLacy said.
Individuals who have trouble with the physical movements required for brushing might benefit from an electric toothbrush. "They're good for people with limited movement in their hands, and for children who don't have manual dexterity," Ferraz-Dougherty said.
When brushing with an electric toothbrush, DeLacy recommends dividing your mouth into quadrants and spending a total of two minutes brushing. That means you'll spend 30 seconds in each quadrant. Some electric toothbrushes have built-in timers to help you meet your brushing goals.
Thinking of buying an electric toothbrush? Ask your dentist for advice.