Last month, shipments of standalone freezers shot up as people replaced or purchased a new freezer for their home. With stay-at-home orders in place across the country, trips to the grocery have been reduced, and families are aiming to stock up on essential goods and ingredients.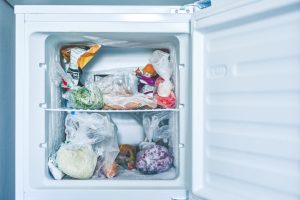 Freezers have long been a cornerstone of food storage, and a second freezer is an easy way to expand your storage capacity. All freezers will keep your food frozen. However, they are not all alike. The most obvious difference in models is size, but both chest and upright freezers also distinguish themselves through a number of features. Depending on the model and type of freezer, those might include:
Auto defrost
Temperature control
Interior LED lighting
Adjustable shelves, baskets and dividers
Compartments for specific types of foods
Safety lock
Power-on indicator
Defrost drain with hose adapter
Alarm to signal when the door is open
Ice maker
ENERGY STAR designation
Quick-freeze
Reversible doors
Adjustable leveling legs
Freezer organization
Organizing your freezer lets you maximize the use of your freezer space, cut down on wasted food and reduce stress during meal times. All of those are even more important during COVID-19, when many are making their homes more comfortable and cutting down on trips to the grocery store. These organization tips will help you keep your kitchen functioning smoothly and help you get the most out of your freezer:
Label everything you put in the freezer with both the name of the food or ingredient and the date that you put in the freezer.
Create "zones" that reserve parts of the freezer for certain types of foods (Meat, bread, fruit, vegetables, desserts, etc.)
If you are using freezer bags, freeze foods as flat as possible for easy storage.
Cool any hot foods before freezing.
Freeze serving-sized portions for easy defrosting and serving.
Plan your meals in advance and keep what you will be eating next in an easily accessible part of the freezer.
Keep a running inventory to make sure you are using what is in your freezer.
Freezer safety
According to the U.S. Food and Drug Administration, the temperature inside your freezer should be kept at 0 degrees Fahrenheit to ensure the food remains safe. Keep a thermometer in an easily accessible area of the freezer and check it periodically. Allow foods to cool before freezing them.
If your home loses electricity, avoid opening the freezer when possible. The temperature inside a full freezer should remain safe for up to 48 hours, even without electricity.
Check the door gaskets on your freezer periodically to confirm a tight seal is keeping the cold air in and the warm air out. This will also help prevent frost from forming inside the freezer.