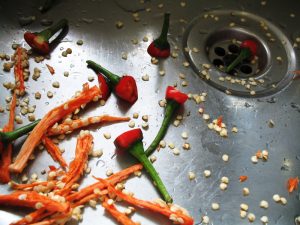 While nobody ever wants to waste food, it's inevitable that you'll sometimes have a few scraps left over. So, what's wrong with tossing them in the trash?
Think about what happens when you throw away trash. It could sit in a bag on your property and act as a tasty treat for critters. After that, it most likely gets trucked to a municipal waste area and dropped into a landfill. It still doesn't go away. Food waste, according to the EPA, makes up more than 20 percent of trash sent to landfills and incinerators. As it breaks down in landfills, that food waste emits methane, a harmful greenhouse gas.
Instead of throwing those scraps in the trash, put them down a food waste disposer. Food ground up and shredded by a food waste disposer ends up either at a wastewater treatment facility or your home's septic system. Treatment plants with the capability can convert the methane gas into renewable energy, and the solid waste into fertilizer.
Cities like Philadelphia, Boston, Milwaukee and Tacoma, Wash. that have tracked the results of food waste disposer use in certain neighborhoods have reported reductions in food waste anywhere from 1.4 pounds to more than 4 pounds per household, per week. That also makes neighborhoods cleaner and can cut down on problems with rodents and other pests,
Now that you know some of the benefits, here's some advice, courtesy of leading food waste disposer manufacturer InSinkErator, on how to best use your disposer:
Hold the shells: Food waste disposers have no taste for shellfish—not their shells, anyway. Never put clam shells, oyster shells, lobster shells or crab shells down a disposer.
Skip the fat: Never pour grease or fat down a food waste disposer or drain. You'll risk clogging the pipes.
Use cold water: Always run cold water when you use your disposer. This allows the food residue to follow easily down the drain. Leave it on for 10-15 seconds after the waste is ground to ensure the best dispersal.  
Feed it in moderation: Food waste disposers are capable of handling most food waste, even chicken bones, celery and potato peels. However, you should avoid putting large amounts of food into the disposer at one time.
Keep it clean: Cleaning a disposer is easy. Try grinding several ice cubes, which will scour the grind chamber and shredder ring, and adding a quartered lemon to cover any odors.