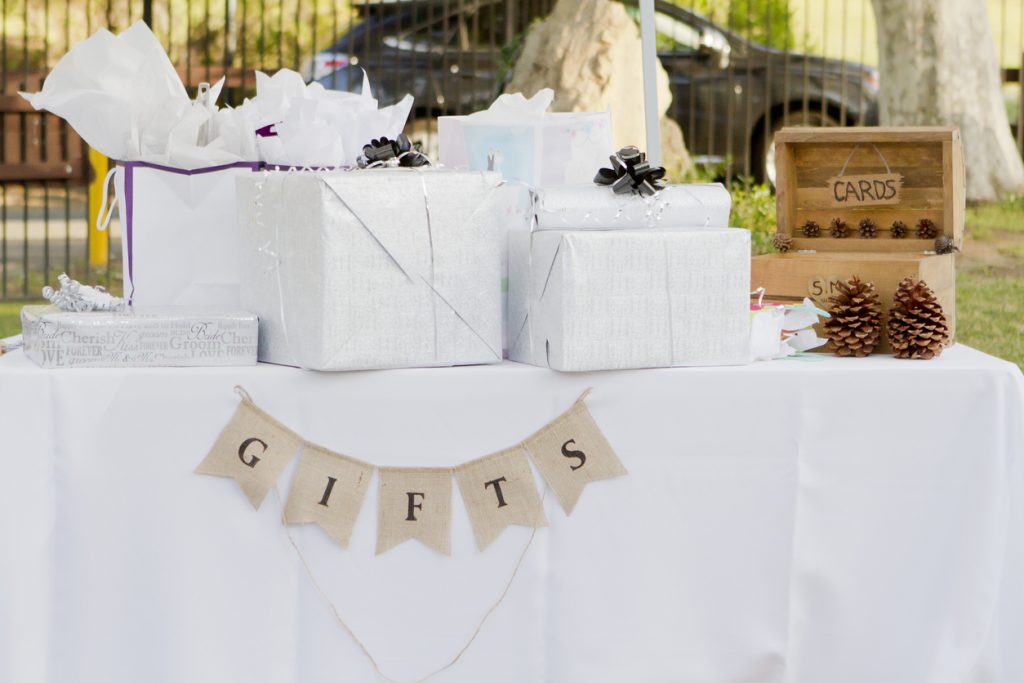 Autumn. It's the season of cool breezes, falling leaves and fluttering hearts. October and September according to wedding website The Knot, are the most popular months for weddings. If you're the one about to exchange vows, you'll want to build a wedding registry that will make your life journey easier and more convenient. That means plenty of appliances.
Kitchen appliances are popular on wedding registries. In fact, a stand mixer routinely tops wedding registry site Zola's list of registry gifts. Also on Zola's list of most popular appliance registry gifts: a waffle maker ("Couples really love their waffles," Forrest says.), hand mixer, food processor, two-speed immersion blender, a programmable slow cooker, a smart toaster oven, and multiple blender models.
Silver Spring, Md. resident Mindy Halpert will marry her fiancée, Mike Reinitz, in May. They recently moved in to a new house, so they considered what they'll need for their home when building their registry.
"When we were moving, we said we could buy that now, or we can wait for the registry," Halpert said. "I'm thinking long-term, high-quality." She likes to cook, and the couple plans on regularly hosting large family gatherings. Appliances on her registry include an electric knife, a multi-cooker, a coffee grinder and high-end coffee maker, a hand mixer, a handheld vacuum and a steamer mop. The couple also registered for two food processors: a 14-cup and a 3.5 cup, so they're ready to prepare meals for both small and large groups. She registered at multiple retailers – some online and some brick and mortar– keeping in mind the shopping preferences of her guests.
So what appliances should you include on your registry? Like so many choices, it depends on your lifestyle.
"Think about what you want before you go to the store and are armed with a scanner," says Betty Gold, Good Housekeeping's senior editor and product analyst, kitchen and food. "Have a discussion with your partner about what you actually need, want and will use for the rest of your lives. A lot of people go hog wild. They see something like an oyster shucker and register just because it's there."
Hannah Brown, wedding registry coordinator for Macy's, encourages couples to focus on their realistic lifestyle when registering for gifts. "There are the couples who host and entertain, and then there are other couples who like stay at home and cook together for themselves," she says. "This will point the couple in the right direction to look for trendy barware versus quality pots and pans. Many times couples have the appliance they want in mind, but aren't sure of the brand or model to select. We advise couples to consider the brands they are already familiar with and the lifestyle that they hold. The most popular appliances for couples, Brown says, are single-serve coffee makers, stand mixers, toasters and toaster ovens, blenders and food processors, and immersion blenders.
Here are some other items to consider for the registry:
Multi-cooker: "If you make hearty cuts of meat or make chili often, we tell people to get them," Gold says.
Sous vide immersion cooker: This is more appropriate for experienced cooks. "People using them are serious cooks or are into cooking," Gold says. "Sometimes people are weekend cooks. They're the sous vide cooks who want to cook a special meal once a week."
Coffee maker: Again, know what you like and how much space is available. A pod coffee maker might work better for people who are short on time. Also keep aesthetics in mind when selecting or giving a coffee maker. "They're going to sit out all the time. If you're giving someone a coffee maker as a gift, it's going to have permanent real estate on the countertop. Espresso machines are a great gift. They're a little higher-end, but you can make your coffee in less than a minute.
Stand mixer: "We recommend that anybody who bakes get a stand mixer," Gold says. "If you don't bake a lot, don't register for it."
Countertop oven: "You can do anything in the oven, except you can do it on your countertop," Gold says.
Are you tying the knot soon? What are you putting on your registry? Let us know in the comments.