The benefits of keeping a clean home are well-documented, from reduced stress to fewer potentially illness-causing germs and even improved allergy symptoms.
Like a lot of household activities, cleaning saw its profile increased during the COVID-19 pandemic. A survey of consumers conducted by the American Cleaning Institute (ACI) in 2021 found that the use of cleaning products like disinfectant wipes and spray disinfectant increased. Ensuring health and safety became a driving force for increased cleaning, and 85% of those surveyed said they are likely to continue the cleaning practices and protocols they began during the pandemic.
Appliances, from dishwashers to clothes washers and dryers to vacuums, are firmly entrenched as valuable tools that make the cleaning process easier. But any cleaning routine should also involve cleaning your appliances, even those that do some of the cleaning for you. Cleaning your appliances can improve both their performance, appearance and energy efficiency. Finally, many appliances are considered "high-touch" surfaces. Think about how many times the handle on your refrigerator is touched every day. Each touch brings the potential to leave germs like viruses or bacteria, on the surface. These can be picked up by the next person who touches it.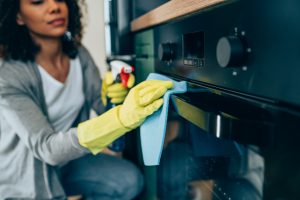 Let's take a look around the home and walk through some ways you can keep your appliances performing at and looking their best:
Refrigerator: Plan to clean your refrigerator when it isn't as full, like just before you go grocery shopping, ACI recommends. Use warm, soapy water to wipe down the drawers (inside and out) and a multi-purpose spray to clean the walls, shelves and exterior. Twice a year, or following the recommendations in your refrigerator's use-and-care manual, unplug the refrigerator and use a coil brush and vacuum to remove dust from the coils. Disinfect the refrigerator handle once a week, or more often if someone in the house is ill.
Oven and range: Cleaning your oven and range after every use will save you from a larger cleaning job later. Warm soap and water or white vinegar are generally safe choices for the range surface, though your manufacturer may recommend specific cleaning products. Don't use cleaners with abrasive properties. Many ovens have self-cleaning features. Once the oven cools after the self-cleaning cycle, ashes and residue may be easily wiped away. ACI cautions against using oven cleaner on a self-cleaning or continuous cleaning oven, as the cleaner may damage the surface.
Dishwasher: Cleaning the dishwasher filter, which traps food debris rinsed away during wash cycles, is the most important aspect of keeping a dishwasher clean. Most filters are removable. For dishwasher exteriors, a soft cloth with diluted soap and water will usually do the trick. ACI recommends drying the finish with a separate towel afterward. Glass cleaner can be used to remove fingerprints from stainless steel.
Air conditioner: Dirt that is allowed to build up can affect the air conditioner's performance. Use a plastic scrub brush to clean coils and vents periodically. Use the brush attachment on your vacuum to remove any leftover dirt. Also, be sure to wash or replace air filters in accordance with the air conditioner's use-and-care manual.
Clothes washer: For a number of reasons, clothes washers can be fertile grounds for mold, mildew and odors. If your unit's use-and-care manual does not offer specific instructions, run an empty hot water cycle containing one cup of chlorine bleach once a month to help prevent odor, mold and mildew.
Clothes dryer: According to the National Fire Protection Association, failure to clean a dryer is the leading cause of dryer-related fires. Clean the lint filter after every use, have the interior venting system cleaned once a year by a qualified service technician. Regularly clean any lint that builds up behind the dryer and any lint that is collected in and around the drum.
Portable appliance finishes: ACI recommends cleaning portable appliances with a nonabrasive, all-purpose cleaner and drying the surface afterward with a clean, soft cloth.
Vacuum: Check the brush roll periodically to make sure it isn't blocked and nothing is wrapped around it. Change and clean the air filter, change bags and empty canisters as needed. Make sure the product is turned off and de-energized when cleaning.