If you are one of the millions of Americans that suffer from seasonal allergies, you know that the changes in weather bring a plethora of allergy symptoms. Although you can't control the triggers outdoors, there are some things you can do indoors that can make a major difference.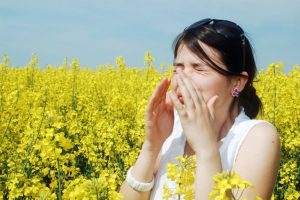 According to the American Lung Association, Americans spend 90 percent of their time indoors, but for allergy sufferers, this doesn't mean protection from pollen, dust, smoke and other allergy triggers that can make life less than enjoyable. Instead of simply living with the sneezing, congestion and itchiness, take some action and limit your exposure to allergy triggers.
Tips for limiting allergens in the home:
Keep windows closed and limit outdoor activities, especially when the pollen count is high.
Shower before you go to bed to help remove the allergens that may have collected on you or your clothes throughout the day.
Do not hang your laundry outside to dry as the items may collect pollen and other allergens. Use a dryer or hang the clothes inside instead.
Use an air cleaner to help clean the air in your home.
A good portable air cleaner is a great way to filter airborne particles and help you breathe ‒ and sleep ‒ easier. The Environmental Protection Agency (EPA) estimates that indoor air pollutant levels may be two to five times higher than outdoor pollutant levels, making an air cleaner a good idea for everyone, not just those with allergies.
Do you want a HEPA, ULPA or electrostatic filter? Does your filter have an ionizer? AHAM offers information on these sometimes-confusing terms and allows you to compare air cleaners at www.CADR.org. You can also compare certified air cleaners by Clean Air Delivery Rate (CADR), suggested room size, and brand name. All of those will help you find an air cleaner that is right for your home.
The CADR shows how quickly air cleaners filtered tobacco smoke, dust and pollen during testing. Higher ratings indicate a faster rate of cleaning. Once you have established the rate needed for your room size, you can weigh the importance of product features, such as noise levels and design.