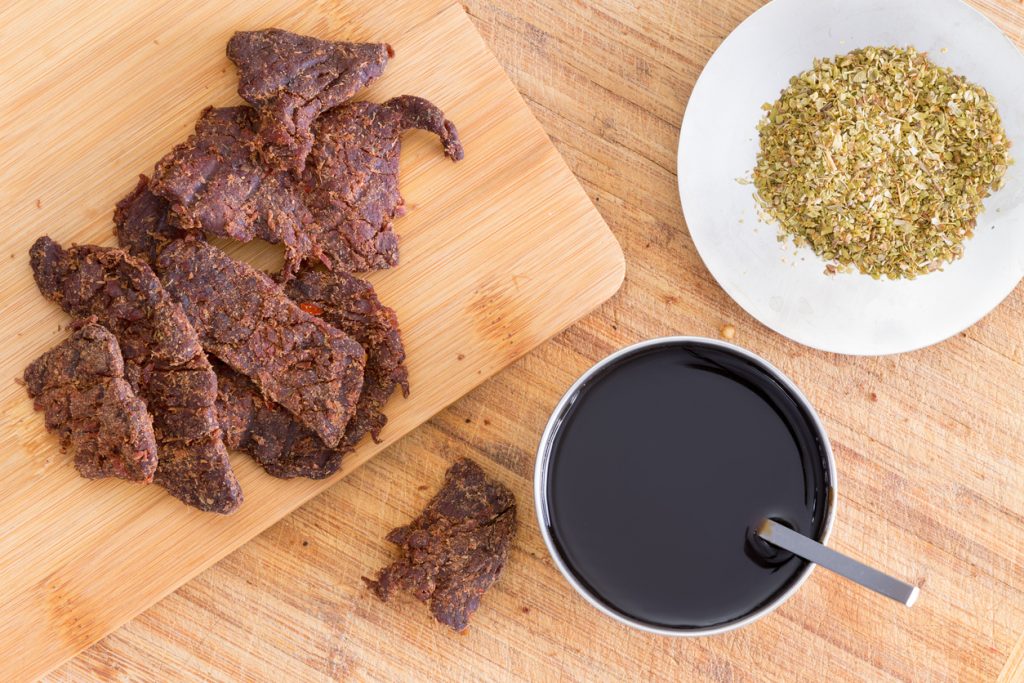 Jerky. It's that time-honored, protein packed snack synonymous with hikers, hunters and the great outdoors. But, it's also a go-to everyday snack for many who are looking for a filling, flavorful protein boost and by people looking for easily stored, quick snacks while saving on freezer, counter and refrigerator space.
Whether your taste leans more toward cracked pepper, teriyaki or more exotic flavors, your jerky journey starts with a food dehydrator. While shopping, think about how and how often you'll be using the dehydrator. Some things to consider are
Size: How much food will you dry at once? Where will the dehydrator be stored?
Number of shelves or racks you'll need in the dehydrator
Visibility: Some models are clear to give you a view of the food during the dehydration process
Dehydrators offer various temperature settings. Most operate between 90 and 160 degrees F. And if you don't have a dehydrator, some ranges even have a dehydration setting. You can also dehydrate foods in your oven, though you should check your range's use and care manual for specific temperature suggestions.
Once you have chosen a dehydrator, it's time to get to work making jerky. Dehydrating meat and other foods can be a bit labor-intensive on the front end, but that will save time later. "There's a lot of prep work, a lot of slicing that needs to be done to get the product ready to dehydrate," said Nancy Becker, a home economist with AHAM member National Presto, which manufactures food dehydrators. But that work saves time later, Becker says. "You can just take it right out of the jar and eat it."
Like all cooking, the jerky-making process starts with safety. Dehydration won't necessarily bring the meat to 165 degrees, the temperature necessary to kill bacteria. Plan on cooking your meat to 165 either before or after dehydration. Since you'll most likely be marinating your jerky, Becker suggests boiling the meat in the marinade.
Any type of meat or fish can be made into jerky. Dehydrators are popular for preserving game meat. If you're buying a cut of beef, choose a leaner cut or ask your butcher to recommend a good cut of lean meat. Trim away any visible fat. Beef, however, will still contain some marbling that can contribute to rancidity, Becker says.
Will Wagner, a jerky-making veteran of 20 years, author of the cookbook "Jerkyholic," favors eye of round for making beef jerky. "It's inexpensive and there's not a lot of fat," he says. Beginning jerky makers will probably find most of the ingredients for a basic marinade – salt, Worcestershire sauce, soy sauce, garlic – already in their kitchen, Wagner says. When you're ready to experiment, try incorporating different flavors. Wagner prefers spicy jerky, flavored with peppers like Carolina reaper and habenero. "That really kicks it up and makes it interesting," he says. His current favorite is Habanero Tabasco jerky (recipe below). He also recommends Dos Pepper Jerky, which combines ground  black and lemon pepper for a spicy kick, and The Best Homemade Jerky, which incorporates habaneros, Wworcestershire sauce, sea salt, onion powder and black pepper.
If you haven't chosen a marinade or seasoning, now is the time to get creative. You are bound only by your meat-loving imagination, but here are a few ideas to stimulate your creativity, and appetite:
Harissa Jerky (Beef Jerky Hub): The mixture is meant to emulate harissa, a sweet, spicy paste common in North Africa.
Habanero Tabasco Jerky (Jerkyholic): A spicy recipe that combines tabasco habanero sauce with Worcestershire, black pepper, garlic and smoked paprika.
Spicy Maple Siracha Beef Jerky (The Kitchn):  Sweet, savory and spicy flavors unite.
When slicing the meat into strips, Becker recommends either cutting while frozen meat is partially thawed or putting fresh meat into the freezer to make it firmer. "It will slice much better," she says. However, wait until it is fully thawed to put it into the dehydrator. How long you marinate the meat depends on the recipe, but it's common to marinate meat overnight or even longer.
Your dehydrator's use and care manual will provide specifics on how long the drying process will take. That will also depend on the thickness of the cut and the amount in the dehydrator. "The best way to determine whether it is done is to take the strip and bend it," Becker says. "You want it to crack a little bit, but not completely break."
Storing jerky: Jerky doesn't last forever. Jerky can be kept at room temperature in a sealed container for two weeks, according to the National Center for Home Food Preservation at the University of Georgia. It should be kept in the refrigerator or freezer if you plan on storing it for longer periods, Becker says.
Jerky is great, but sometimes, you want to add more plants to your diet. You can use your dehydrator on fruits and vegetables, too. Dried fruit makes a great snack, and vegetables can be rehydrated to use in recipes. A few things to know:
They're going to shrink. "What astonishes most people is when you load the dehydrator, it looks like you have a tremendous amount of food," Becker says. "When you're done, it looks like you have a snack." Fruits and vegetables with a high water content will be much smaller once they are dehydrated.
Some fruits, like bananas and apples, brown quickly after they are sliced. "If you don't want those color changes, you have to pre-treat them," Becker says. She recommends dipping them in pineapple or lemon juice after slicing. "If you're going to store them for a few months, it will minimize those color changes."
Do you have an exotic or unique jerky recipe? Share it in the comments below.