If you are like the average person in the U.S., your home has major appliances like a range, dishwasher, washer and dryer, and typical small appliances like a blender, stand mixer, iron and toaster.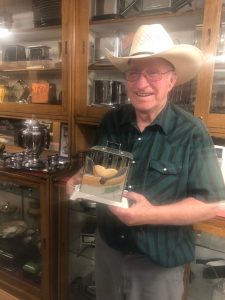 But do you have an electric hot dog cooker? How about a marshmallow toaster? Richard Larrison has those, hundreds of toasters, and many other appliances you never even knew existed. Larrison, 81, has spent the past several decades putting together what he believes is the world's largest collection of small electric appliances in the world. So far, no rivals have come forward to question the name of his museum, The World's Largest Small Electric Appliance Museum.
You will find this portable appliance mecca attached to Larrison's main business, JR's Western Store, in Diamond, Missouri, about 15 miles southeast of Joplin. The town of fewer than 1,000 residents in the southwest corner of the state might be easy to miss on a map, but it has some historical significance as the birthplace of agricultural scientist and crop rotation pioneer George Washington Carver. Larrison's daughter, Dina Stevens, who runs JR's, describes the town as having "a post office, a dollar store and a Casey's."
Despite its small-town location, the museum still attracts sightseers in search of a quirky experience. "We're kind of along Route 66, and many [visitors] will Google unique things to see in Missouri," Larrison says. "We get people from Germany, Argentina, New Zealand…all kinds of people come through. They're in total shock when they see the western store. It's a strange combination, but it's a lot of fun."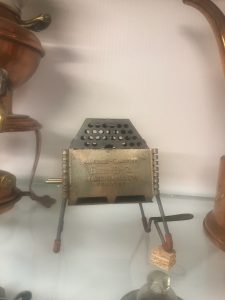 Larrison started his collection, which he estimates at eight or nine thousand appliances, more than four decades ago with electric fans. "I finally got tired of that, and my brother-in-law in California said he was collecting toasters," Larrison said in a recent phone interview from JR's Western Store. "I started collecting all the toasters I could think of. Then, I saw a toaster that had the same design as a coffee pot. I got the idea for a museum. Anything small and electrical, I buy. I have the World's Largest Small Electric Appliance Museum. You can go anywhere in the world, and you're not going to find it." His collection grew through finds at flea markets, yard sales and estate sales. Larrison says he "made eBay famous" acquiring new pieces.
So why the fascination with old portable appliances? It's the engineering, mechanics and the fact that many of the appliances were original ideas at the time they were made.
"[The ideas] had to come from their head," Larrison says. "There were no computers or anything. It's fascinating, when you stop and use your head, what you can come up with." Stevens points out that many of the appliances in the collection contain exposed elements and lack the warning labels and safety features that are now a mainstay of every appliance.
"Back in the day, they weren't too worried about safety," Larrison says. "If we had the same mentality about safety back then that we have now, we wouldn't have any appliances!"
On display at the museum are items from both familiar brands — GE, Westinghouse, Hotpoint — and rarer names like Royal Rochester. Larrison lists among his more unique pieces a hot dog cooker (marketed with individually wrapped hot dogs with a spike through them for easy cooking), a "travel toaster" that could be plugged into a car's cigarette lighter, multiple porcelain toasters, an electric coffee cooker that must be operated with a hand crank. He also has a "rare and unusual" popcorn popper that has the heating element on top. In porcelain toasters, the bread had to be flipped manually to toast both sides, a far cry from the automation found in today's appliances.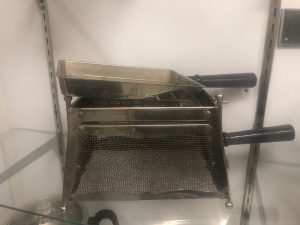 The museum's oldest appliance is an electric toaster from 1909. Larrison has combed the U.S. in search of appliances for his collection and observed the regional nature of early appliance models. "In the old days, they didn't have the transportation they have now," Larrison says. "If a toaster was made in Missouri, that's the only place you could find them. If you wanted a toaster made in Wisconsin, you had to go to Wisconsin."
He estimates that about 90 percent of the appliances still work, though he avoids plugging most of them in because a damaged element would be irreplaceable. But he still uses one of the toasters, a model from the 1950s, several times a week. "He has oatmeal every day, and he has to have a piece of toast," says Stevens. "For as long as I can remember, even before he started collecting fans, he had a flat top antique toaster that sat on the cabinet in our kitchen."
Even from a tiny Missouri town, Larrison's collection has earned him some notoriety, through appearances on a few morning news programs. It was through one of those appearances, on a show broadcast out of San Diego, that some Missouri locals learned of the museum. Larrison is also a member of the Toaster Collectors Association and once hosted its annual meeting. He still puts in work maintaining his collection, cleaning and documenting the items. "It will be here long after I'm gone. It's an education for the kids."
The appliance museum, at 51 Highway 59 in Diamond, is free to visit, but Larrison accepts donations. "All you have to do is come in the western store. We'll open the doors, turn on the lights, and you can go for it. It's someplace you should bring your kids, to show them what it was like in the old days. Things have changed a whole bunch."