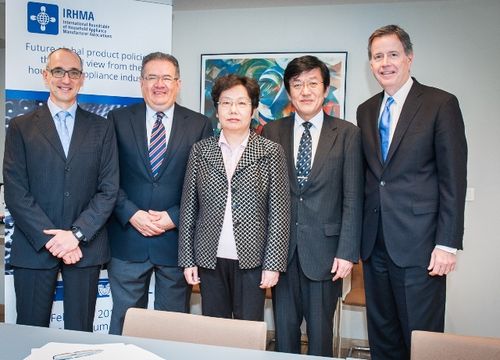 From left, Paolo Falcioni, Director General, CECED; Pablo Moreno of Mabe, Chairman of ANFAD; Jeng Feng, President, CHEAA; Satoshi Tanaka, Director & GM, Home Electrical Appliances Department, JEMA; andJoe McGuire, AHAM President.
Last week, AHAM President Joe McGuire traveled to Brussels, Belgium to join the other founding members of the International Roundtable of Household Appliance Manufacturing Associations (IRHMA).  In addition to AHAM, other founding members include: the European Committee for Domestic Equipment Manufacturers (CECED), the China Household Appliance Association (CHEAA), Asociación Nacional de Fabricantes de Aparatos Domésticos (ANFAD) and The Japan Electrical Manufacturers Association (JEMA). 
The formation of IRHAMA will allow these associations to create working groups on various public policy and technical issues, including smart appliances, incentives to purchase highly-efficient appliances, product sustainability, energy labeling and data collection.
The formation of IRHMA is beneficial to appliance manufacturers, their suppliers and consumers.  For example, by conforming to a uniform code of technical standards, businesses reduce their costs and production is streamlined.
The next IRHMA meeting will be held in the U.S. in 2015, hosted by AHAM, and CHEAA will host the 2016 meeting in China.