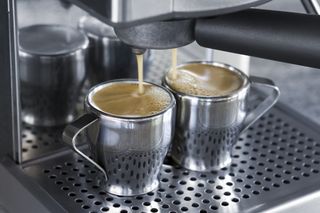 If you find yourself stopping off at a coffee shop before work each morning, lugging home cases of bottled water from the grocery or always eating out, you might want to look at how home appliances can save you money. Even better, most of them you probably already have in your kitchen so why not start saving money right now?
Coffeemakers—Save on pricy coffeehouse blends by brewing your morning cup at home.  Resisting a $3 cup of coffee will save you nearly $1,000 per year!
Freezers—Stock up on frozen foods when they are on sale. Last year, nearly 2 million home freezers were shipped for sale as consumers realized the savings in stocking up on frozen sale items.  Also, remember to shop for an ENERGY STAR freezer to save even more on energy costs.
Water filters—Use a water filtration system in your refrigerator instead of buying bottled water.  This practice will save you money, and will help the environment by reducing the number of plastic bottles that clog landfills.
Portable electric heaters—Turn down the heat and use portable heaters in rooms that are used frequently.  Keeping the thermostat down will save money while portable heaters provide direct and quick warmth.
Cook at home—An electric oven turned on for one hour on 350ºF only uses 2kWh of electricity, costing just 24 cents.   The cost of dining out can add up quickly when you add in drinks, tips and tax.   Try cooking at home for a low-cost meal.  Tons of free recipes can be found online from AllRecipes.com, Food.com and Food Network just to name a few.